At Office Furniture Direct we have a large selection of filing cabinets for you to choose from which includes both wood file cabinets and metal filing cabinets. All with free delivery, browse now to find your ideal model.
Office Furniture Direct is proud to offer a wide selection of high-quality filing cabinets to help you keep your office organised and running smoothly. Whether you need a small two-drawer cabinet for your home office or a larger four-drawer cabinet for a busy workplace, we have a variety of sizes and styles to choose from.
Our file cabinets are made from durable materials such as steel, wood, and laminate, and come in a range of finishes to suit any decor. They also feature locking mechanisms to ensure the security of your sensitive documents.
With our models, you can easily store and access important paperwork, files, and documents, helping you to stay organised and efficient. Browse our selection today and find the perfect product to meet your needs.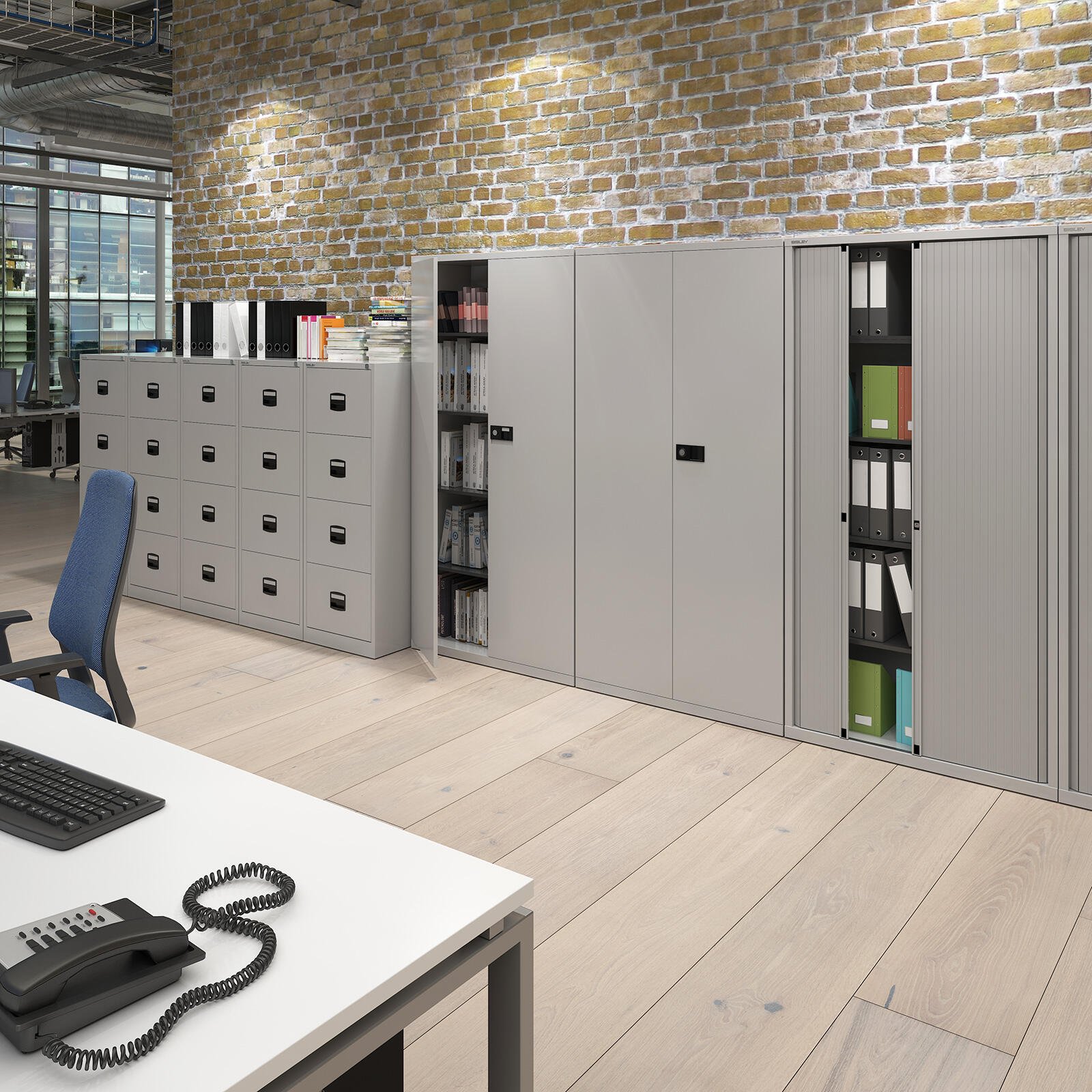 Our Range
We offer a wide range designed to help keep your office space organised and efficient. From compact two-drawer cabinets to large multi-drawer models, you'll find everything you need to store and organise your important documents and files. There is a wide range to choose from, varying in size, material, capacity, and design. Here are some of our most popular types:
Vertical: These are the most common type and are designed to store letter-sized documents. They are usually two to five drawers tall and have a locking mechanism to secure the contents.
Mobile: These are portable cabinets that have wheels or casters, making them easy to move around the office. They come in vertical or lateral designs and are available in different sizes.
Fireproof: These cabinets are designed to protect documents from fire and are made from materials such as steel and gypsum. They come in different sizes and designs, and some models can withstand fires for up to two hours.
Lockable: Built for security these are mainly used to keep safe confidential documents as well as valuable persoanl items. They come in a variety of shapes, sizes, and colours.
The range of filing cabinets available is vast, so it is essential to choose a cabinet that meets your specific needs in terms of size, capacity, security, and accessibility.
Wooden Filing Cabinets
If you're in search of a cabinet that is both stylish and sturdy, a wooden model may be the perfect option for you. These cabinets come in a variety of finishes, such as oak, beech, and walnut, and can add a touch of elegance to any office space. About half of our selection consists of wooden varieties, which can be paired with matching office furniture like bookcases and desks. With up to eight finishes available, including beech, oak, and walnut, there are plenty of choices to fit your budget. If you're on a tighter budget or need to purchase in bulk, the Gentoo model is a great option. It is a sleek and versatile cabinet with scratch and stain-resistant lacquer, available in 2, 3, or 4-drawer variants with lockable handles for added security.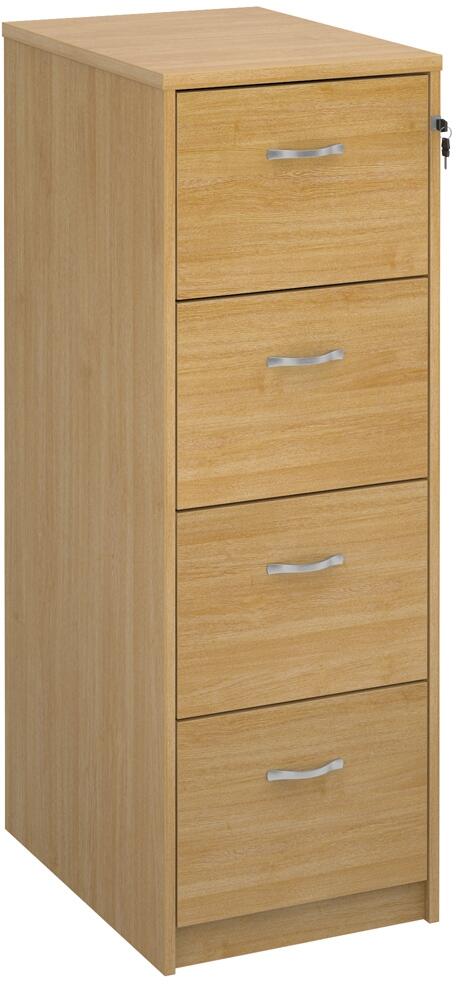 Metal Filing Cabinets
Metal file cabinets are ideal for achieving a more modern or industrial aesthetic while also providing excellent protection for important documents. These cabinets are sturdy and durable, and most models come with lockable drawers to ensure security. Additionally, many models can be bolted to the floor to prevent them from being easily carried away.
Our selection includes a variety of colors to match your office décor. With up to 10 color choices available, including black, red, blue, and yellow, you can find the perfect model to fit your needs.
Our newest and most popular model is the Bisley A4. These cabinets have a contemporary design that is perfect for modern offices. With over 10 different color options and combinations to choose from, you can find a model that fits your style. Plus, they come in 2 and 3 drawer varieties, all of which are lockable for added security. Please note that the Bisley A4 is only available in metal.
2 Drawer File Cabinets
Looking for an efficient storage solution for your small office or home space? Look no further than our compact and user-friendly cabinets. With options available in both wood and metal variants, you'll be able to choose the perfect fit for your needs.
Our two-drawer models are specifically designed for foolscap files, providing folders within the drawers to keep your important documents organised and easily accessible. And our top-selling cabinet in this category, the Dams Executive, is available in oak, beech, walnut, or white finish to match any decor.
These cabinets aren't just stylish, they're also functional. With anti-tilt technology and full lockability, you can rest assured that your files will be safe and secure. And with a weight limit of up to 45kg per drawer, you can store all the supplies and documents you need without worry.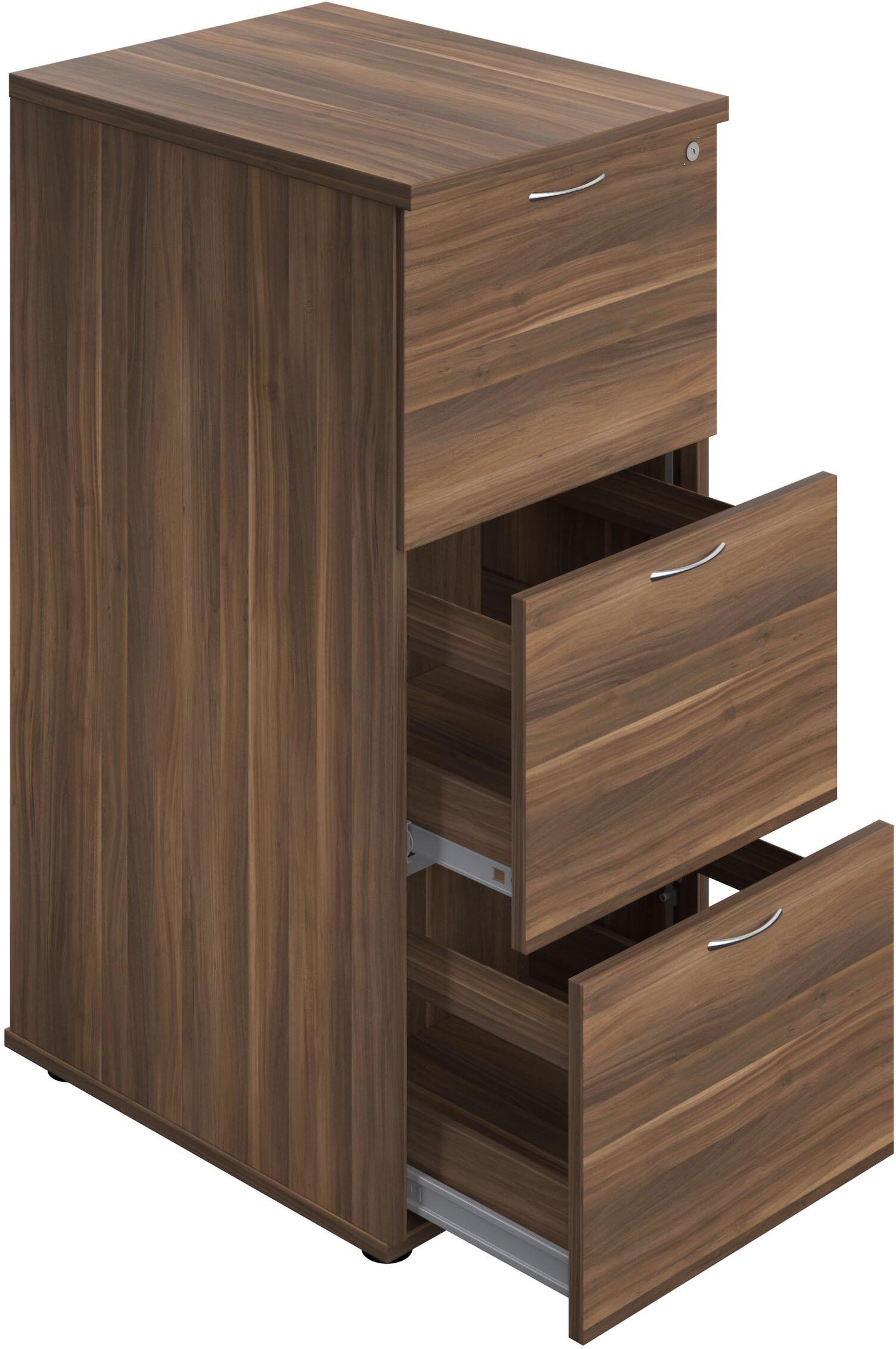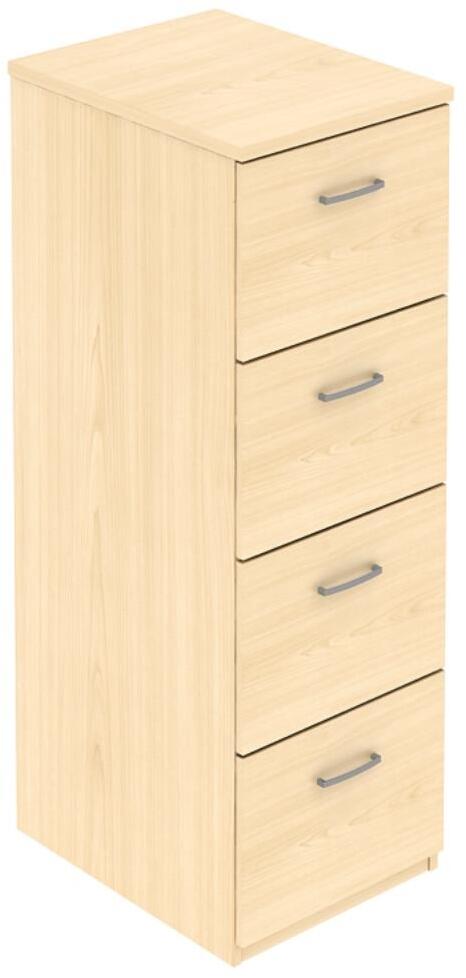 3 Drawer File Cabinets
Upgrade your office storage with our premium three-drawer cabinets. With ample space to keep your files and documents organised, these cabinets are perfect for medium-sized offices. Our three drawer models offer foolscap drawers, normal drawers, and a combination of both to cater to your specific needs.
Ideal for multi-use offices, these cabinets are perfect for record-keeping and storing other important items. Our customers rave about the TC 3 - a sturdy wooden model that provides secure storage for A4 or foolscap hanging files. With its lockable feature, anti-tilt mechanism, 100% drawer extension, and smooth sliding drawers, the TC 3 ensures effective organisation of office documents.
Plus, you can easily combine this model with other storage solutions from TC Office for a seamless and coordinated look. Don't settle for basic two-drawer models when you can upgrade to our premium three-drawer cabinets today.
4 Drawer File Cabinets
Are you looking for a reliable and stylish filing solution for your office? If so, our cabinets are the perfect choice for you. Especially if you have a larger office space, these cabinets offer ample storage space for all your documents and files, making them ideal for businesses that generate a lot of paperwork.
Our cabinets feature four full-depth drawers for foolscap or hanging A4 folders, providing plenty of space to keep all your important files organised and within easy reach. Plus, we offer a variety of options to choose from, including metal and wood materials, as well as wider models for even more storage space.
One of our most popular 4 drawer systems is the Elite Systemfile 4 which is part of our metal range. These cabinets are strong, sturdy, and secure, making them the perfect choice for high-end offices that want to make a great first impression.
In addition to their practical benefits, our cabinets also add a touch of style to any office space. Designed to complement our other furniture collections, they help keep your office organised and looking its best.
And when you purchase any Elite Office product, you can rest assured that you're getting the best possible value. We offer free delivery to any floor and will even schedule an installation appointment for you, taking care of all the packaging removal and recycling.
So why wait? Choose Elite Office cabinets for a reliable, stylish filing solution that's sure to make your office look and feel great.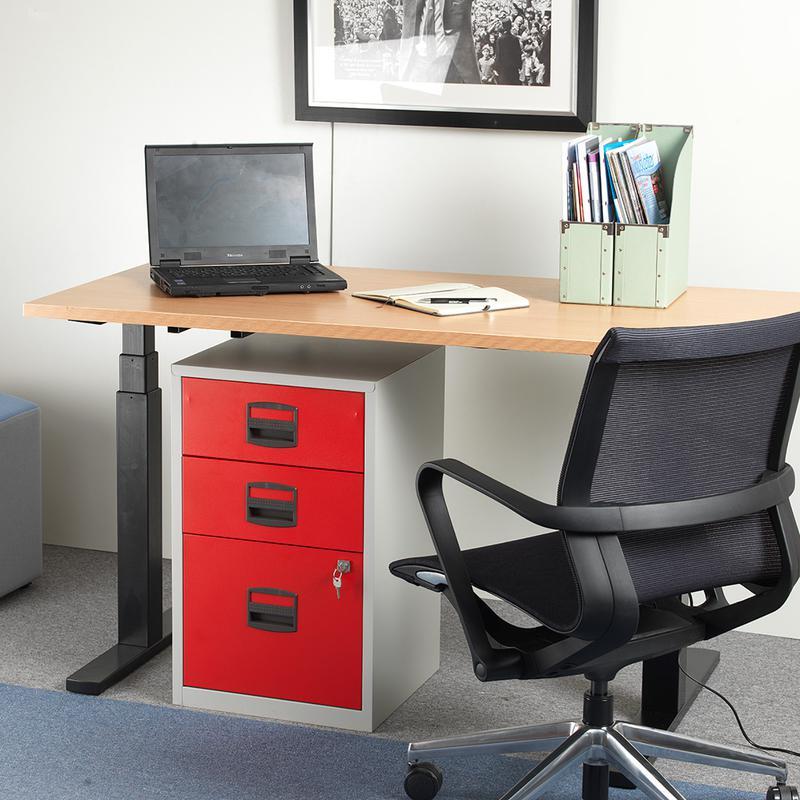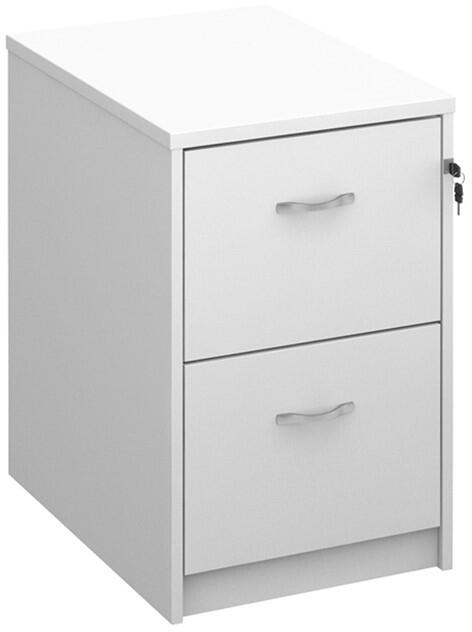 Lockable model are an essential part of any office or workspace where confidential documents are stored. These cabinets feature a lock mechanism that secures the contents of the cabinet, preventing unauthorised access to sensitive documents. Most lockable models come with a standard lock and key, while others have advanced locking systems that require a passcode or biometric verification for access.
.
Fireproof models are designed to protect important documents from fire damage. These cabinets are constructed using materials such as steel, concrete, or gypsum, and are designed to resist high temperatures and smoke. Fireproof models are available in different ratings, which indicate the amount of time the cabinet can withstand a fire. For example, a cabinet with a rating of one hour can withstand a fire for up to one hour without the contents being damaged. Fireproof cabinets are ideal for storing valuable documents, such as contracts, deeds, and financial records, which need to be protected from fire damage.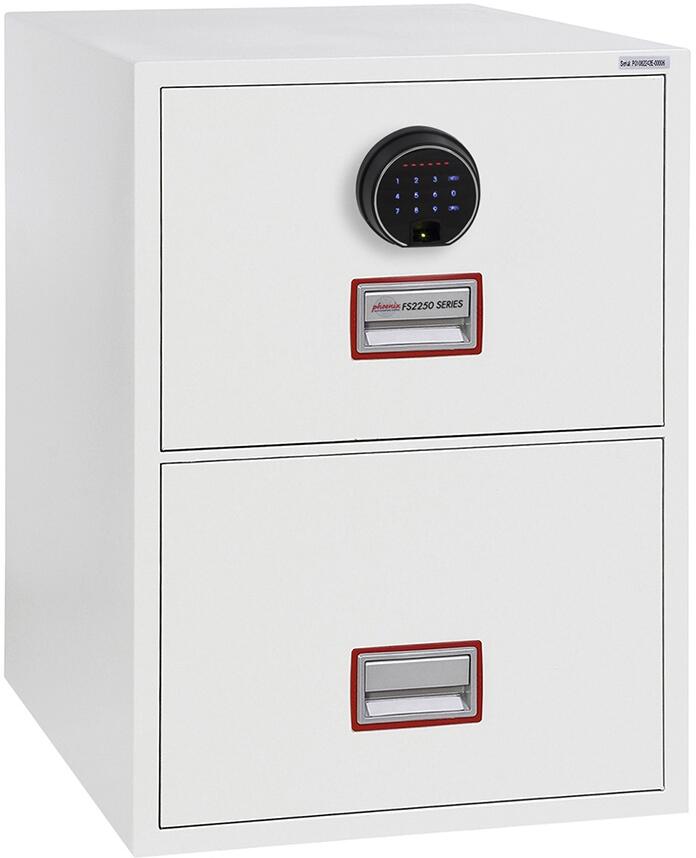 Whether you need a small, two-drawer for your home office or a large, multi-drawer cabinet for your business, Office Furniture Direct has a wide range of models to choose from. With high-quality materials and a variety of styles and finishes available, you're sure to find the perfect product to meet your needs.
Why use us?
At Office Furniture Direct, our priority is our customers. Every single product we stock has been sourced based on our customer's needs. All products are quality checked to ensure standards are being adhered to. We offer a huge range of ergonomic chairs in all shapes, sizes, materials, styles, and colours for you to choose from and each product comes with a minimum of 1 year warranty, but most of our products will carry a longer warranty. We offer free delivery, no matter how much or how little you spend, and we also offer a no quibble 14 day return policy. If you change your mind, simply return your product in its original condition and we will issue a refund. Moreover, we offer price match promise so we guarantee that if you do find one of our products cheaper elsewhere, we will match the price.
If you'd like to find out more about our range, or would like to enquire about stock, you can call one of the team on 01480 220311 who will be on hand to help with your query.
Delivery Times
Delivery times for our products vary depending on which range you are purchasing. Each range and individual product state their estimated delivery time during checkout. We deliver to most UK locations with free delivery as standard. To discuss delivery details, call us on 01480 220311. We also offer an optional nationwide installation service. This is a completely optional service where if you choose to make use of it, our fully trained installers will install the furniture in the locations that you choose as well as disposing of any packaging in an environmentally friendly manner.