Our bookcases are available in a plethora of colours, patterns, and designs, making them not only practical but also fashionable options for your home. With the most competitive pricing imaginable, this collection is not only economical but will also help you maintain order and cleanliness in your home or workplace.
You are certain to find the ideal bookcase to perfectly match your office needs as there is a wide selection of sizes, styles, and colours from which to choose. We provide free delivery on all of our commercial and home office bookcases, giving you more options than ever before. All of these come with an outstanding guarantee from the manufacturer and are of an exceptionally high quality.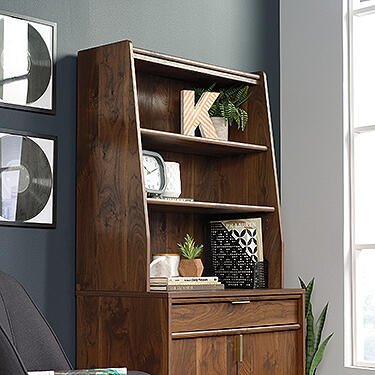 Our Range
We have a huge range of products within this section, so we have decided to give you some information on each one of the brands we supply. This will give you a brief overview of each brand, the kind of products that they have along with any other standout features.
Gentoo
Stable and offering a great deal of storage space, Gentoo bookcases range in height from 800 millimetres all the way up to 2000 millimetres. The Gentoo range of bookcases offers options with anywhere from two to five separate storage areas, making them ideal for stowing and showcasing office supplies. They are offered in five different natural wood finishes, with the grain patterns and knots of the material contributing to the overall look of the furniture piece. Gentoo bookcases are perfect for use either in the office or at home due to their inviting and reassuring aesthetic.
Teknik
When it comes to office shelving, Teknik provides a completely different style with their modern designs. This section of our website is primarily devoted to our home office section. Not only does it function well for home offices, but it also serves the needs of more contemporary businesses. You'll quickly understand why this is one of our most popular brands when you see that it comes with a warranty that lasts for two years and an incredible selection of products. It is incredible to see the amount of thought that has been put into the design of each one of their products, as well as the versatility of their offerings. These products would not look out of place in either an office designed for a forward-thinking corporate company or in a home office that is being set up in the living room. You could use them for either project.
TC Office
Standard bookcases from TC Office are available in a range of heights, from desk height up to 2000 mm. This includes eco-friendly bookcases as well as executive bookcases. The executive collection comes in a design that is either regent, dark, or light walnut, and it has elegant, nickel-plated feet and brushed silver cable ports. The executive bookcases are of excellent quality and exude a sense of grandeur. Rich tones work particularly well in high-end offices. They come with free delivery and one shelf as standard.
Dynamic
Dynamic bookcases are offered in a total of six distinct colours, are exceptionally long-lasting, and come with an excellent warranty that is valid for five years. They require self-assembly, which is made user friendly with the documentation that is supplied with the product. The bookcases are a great addition to the whole collection because they come in a variety of sizes and styles that can accommodate any office environment.
Nautilus
The Nautilus office bookcases come in a wide variety of configurations, one of which is an expanded five-compartment version. The wood has a variety of finishes, including a lacquer that is resistant to stains and scratches. Bookcases from the Nautilus collection perform admirably in both public and private environments. This range is sleek and modern, and it has shelves that can be adjusted. They are delivered flat packed and can be purchased in bulk, with free delivery offered to residents of the UK.
If you'd like to find out more about our office bookshelves, or would like to enquire about stock, you can call one of the team on 01480 220311 who will be on hand to help with your query.
Delivery Times
Delivery times for our products vary depending on which range you are purchasing. Each range and individual product state their estimated delivery time during checkout. We deliver to most UK locations with free delivery as standard. To discuss delivery details, call us on 01480 220311. We also offer an optional nationwide installation service. This is a completely optional service where if you choose to make use of it, our fully trained installers will install the furniture in the locations that you choose as well as disposing of any packaging in an environmentally friendly manner.