We offer a range of corner desks from a collection of well-established brands in a variety of finishes, designs and features. Whether you are furnishing an office or creating your own bespoke workspace, we'll have the perfect corner office desk for your needs.
Key Features
| | |
| --- | --- |
| Up to 10 year warranty | High weight tolerance |
| Cable managed leg options | Easy to clean |
| Range of finishes | Protected top edges |
| Adjustable desk feet | Free standard delivery on all products |
Are you shopping for corner desks for sale online? We have a huge range for you to choose from. All the products on this page will work perfectly in a corner in your office or home. You can filter the results down further by selecting from a choice of frame types, colours, finishes, size, and brand. Once you've found the product you want, you have a range of payment options to choose from. We will then deliver your product to your home or office free of charge.
We know that choosing the right desk involves many different factors. Using one of the models allows you to make the most of the space you have. We offer a range of small corner desks if space is tight or if space isn't an issue, then full size corner desks are available in many different styles and finishes. Whatever style of décor you have in your home or office, we're sure to have a desk that compliments it.
The Different Types Available
There are many models with different features and accessories. Below are just some of the varieties you can expect to come across in our selection.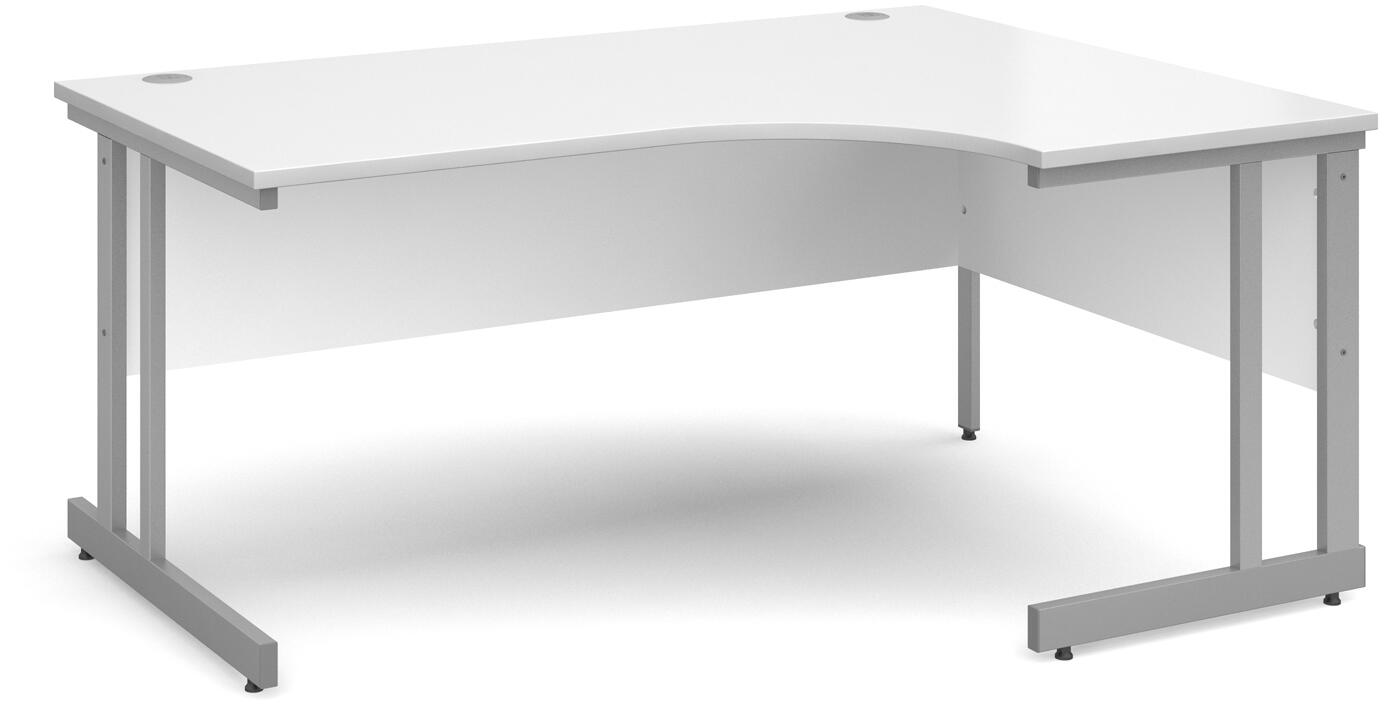 Standard Corner Desks
Fit out your home or office with one of these desks to achieve your desired look. They are available in left-handed and right-handed models, and you can choose from up to 9 different wood finishes including Ash, Oak & Walnut. They are available in a range of sizes and can be with or without end panels.
Corner Computer Desks
A corner computer workstation is essential for anyone who works from home. These are specifically designed to hold your PC whilst giving you enough space to work on the desk surface. We keep a huge range in stock to suit all requirements.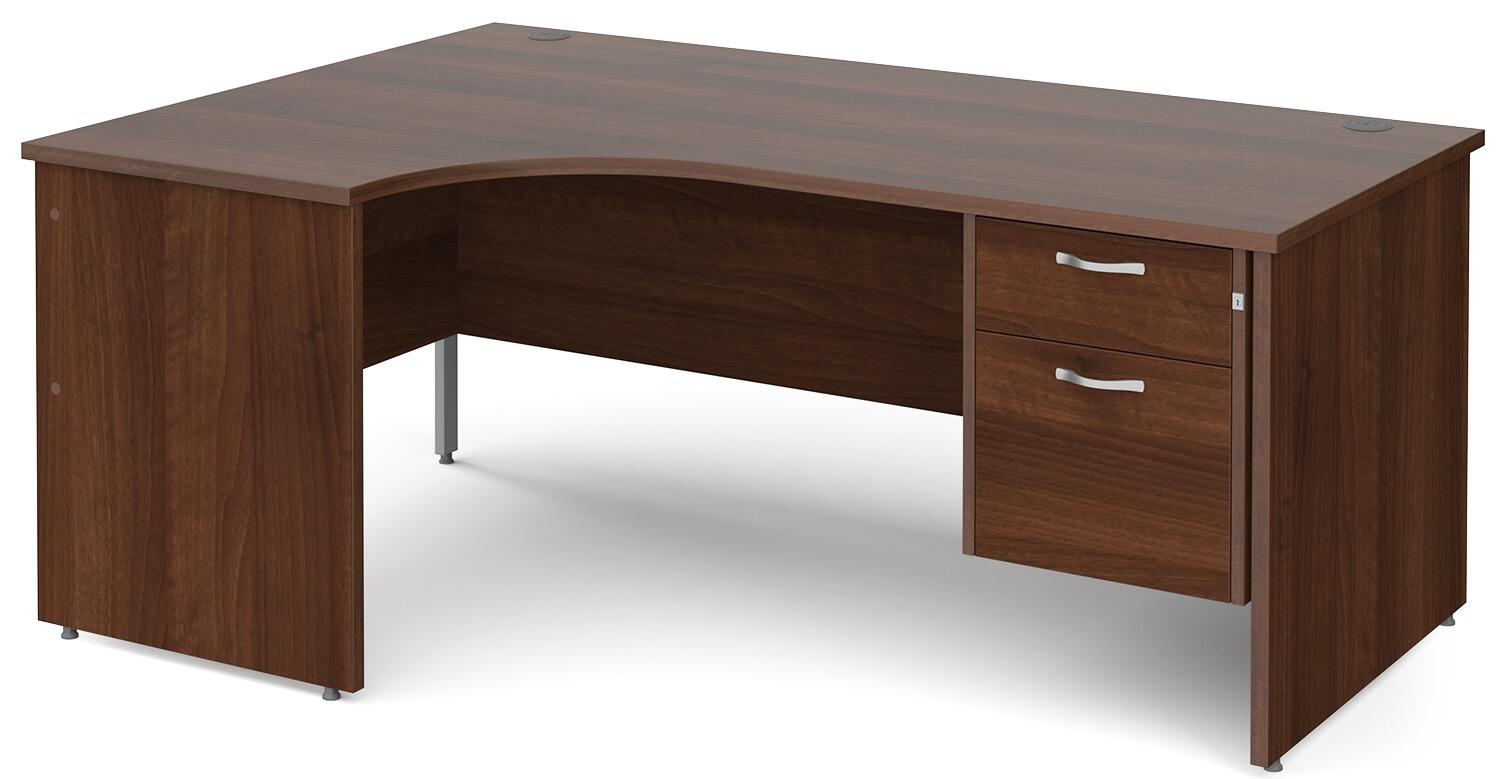 Corner Desks With Storage
If you are looking to save even more space in your office or home office, corner computer desks with storage are a wonderful solution as they maximise your workspace whilst offering you areas to store away documents, folders and personal effects. We have many modern styles on offer, so you are sure to find one to suit your needs and budget. Once you have decided upon a desk, why not treat your team to an ergonomic office? They are available in a range of colours and styles to suit your home or office.
Our Range
Our catalogue features a range of designs including various leg shapes: Single Cantilever, Twin Cantilever, Panel End, Cable Managed or with a unique frame from Elite. They offer more leg room than other table designs, and most models include a matching drawer for improved storage. Below we go through the strengths of each brand that we supply and why they will be a good fit for you,
Gentoo
Offering simplicity and class, Office Furniture Direct's Gentoo's collection are sustainable and practical, perfect for furnishing a busy office space. Create the ideal cooperative workstation by purchasing several tables and placing them together, the design allows for a sizeable amount of space ideal for work and coordination.
The Gentoo collection features a range of natural wood finishes. Beech, Oak, Walnut, White and the new Grey Oak. A white finish is very popular in modern offices to go with this stylish choice of design. The leg colour is available in silver only. The legs can employ a wire management system, with channelled legs and ports in the wood grain top. The feet are adjustable, ensuring the table is kept level and at the correct working position.
Choose from a panel-end leg option or twin cantilever legs, both are durable and stylish. Gentoo products include a 8 year warranty, proving an excellent long-term solution for modern offices.
Dams
The Dams range are available as either a single cantilever or twin cantilever variant. The desks are engineered to suit the needs of the office, feature cable management properties in the tops of the desk. The tops have a natural wood finish and a heat-resistant coating. The materials available include oak, beech, maple and walnut with white also available as an alternative option. Ideal for use with other Dams products such as the pedestals and storage pieces, Dams is a great complete solution for any workplace.
TC Office
Desks from TC Office feature a very modern design, ideal for high-end professional offices. Styles include twin cantilever, upright with the wood top resting above the legs, H frame and cable managed legs. Many TC Office desks use modesty panels, offering both privacy and aesthetic balance. Cable management properties are built into the desk, with engineered ports ensuring a clutter-free workstation.
The Lite range from TC Office is an ideal starting point for offices. The thin 18mm MFC desk top and silver or white legs are easy to self-assemble. Lite is a great way of conserving on both the price and amount of material for a excellently budget-friendly workplace.
Elite
The Elite Office desk collection features a range of styles and is the best solution for sophisticated offices. Elite Office tables are designed with a skeletal structure with a choice of leg shape. A frame, reflex and cantilever legs are available, cable management through the legs is available. The Elite Office range features a large choice of natural wood finishes. Also choose between black, silver or white metalwork legs.
The Elite Office collection is ideal with other related products, including Elite Office bookcases and storage units. The desks include cable trays and free installation option to anywhere in the UK.
Office Furniture Direct offers a full installation service to mainland UK for all products, a variety of delivery options are selectable at the checkout stage. Standard delivery is free and the products require self-assembly. Assembly is made easy with fixings and instructions provided.
If you'd like to find out more about our corner desks, or would like to enquire about stock, you can call one of the team on 01480 220311 who will be on hand to help with your query.
Delivery Times
Delivery times for our products vary depending on which range you are purchasing. Each range and individual product state their estimated delivery time during checkout. We deliver to most UK locations with free delivery as standard. To discuss delivery details, call us on 01480 220311. We also offer an optional nationwide installation service. This is a completely optional service where if you choose to make use of it, our fully trained installers will install the furniture in the locations that you choose as well as disposing of any packaging in an environmentally friendly manner.
View our full range of office desks.
Frequently asked questions
Can you install my furniture?
We offer a full installation service across mainland UK. You can select the installation service at the checkout stage. Alternatively, call us on 01480 220311 to discuss your requirements.
Do I need to assemble my furniture?
Most products will need to be assembled. Assembly instructions are provided with each item, and in some cases videos will be available to guide you through the process.
Some items will come fully or part assembled, however, all products will state if they require assembly or not under our service options.
Does this come with a warranty?
Yes, all our products come with a minimum of one-year warranty. Certain items will offer warranties which range from two to ten years. Warranties are stated on each product under the "Specifications" tab in the product description.