Ideal for under desk storage, our range of pedestals are available in a range of finishes and designs and provide additional storage in various working environments. With designs of simplicity, these pedestals will complement your office interior and give it an upgraded, stylish look.
Whether you are looking for desk storage for your home or office, there's no question that office pedestals with office drawers are the ideal solution. When you're using up space in the room for a desk, adding under desk storage takes up no further space yet allows you to make use of what was previously dead space. They can be permanently fixed to your desk or can be on wheels allowing them to be mobile and shared by team members. This is especially useful when you don't have the space in your office for further cupboards and drawers.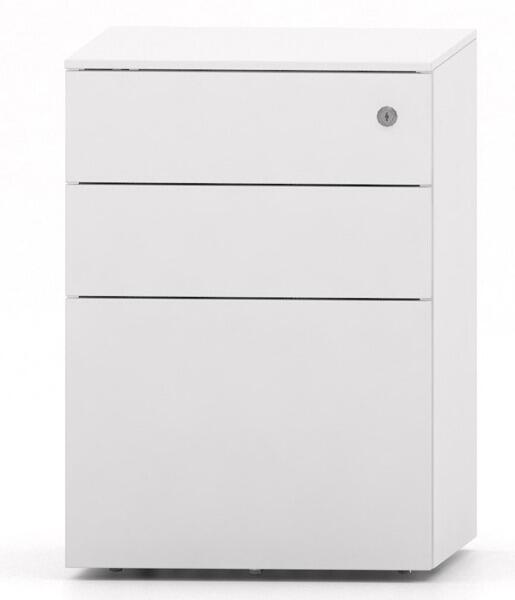 Our TC range of fixed and mobile pedestals offer a range of features and benefits. They are a varied collection with a wide choice of natural wood finishes. The Lite range combines both natural wood panels with steel runners for a smooth and user-friendly storage option. It is budget appropriate with chrome handles, multiple designer wood materials and 100% extendable drawers. The Executive Regent is a modern, stylish and bespoke model featuring a unique cappuccino wood finish and holds a huge 5-year warranty. They include a pen tray along with brushed aluminium handles. The TC Office collection is a popular choice when it comes to the perfect long term office storage solution.
Wooden pedestals are the ideal under desk storage solution for offices and workstations. They are a vital part of any office furniture collection, providing the perfect place for paperwork, stationary and other equipment. In those busy offices that produce a huge amount of paperwork, it's absolutely necessary for them to be able to keep organised and on top of their filing. That is why desk pedestals are a staple of every office environment, as they do provide that much needed space for filing documents and personal items. Compared to steel pedestals, wood pedestals benefit from the natural imperfections in the material, its rings and knots creating a comfortable look and feel. We have a wide range of styles and shapes are available, with a choice of natural wood or steel finish.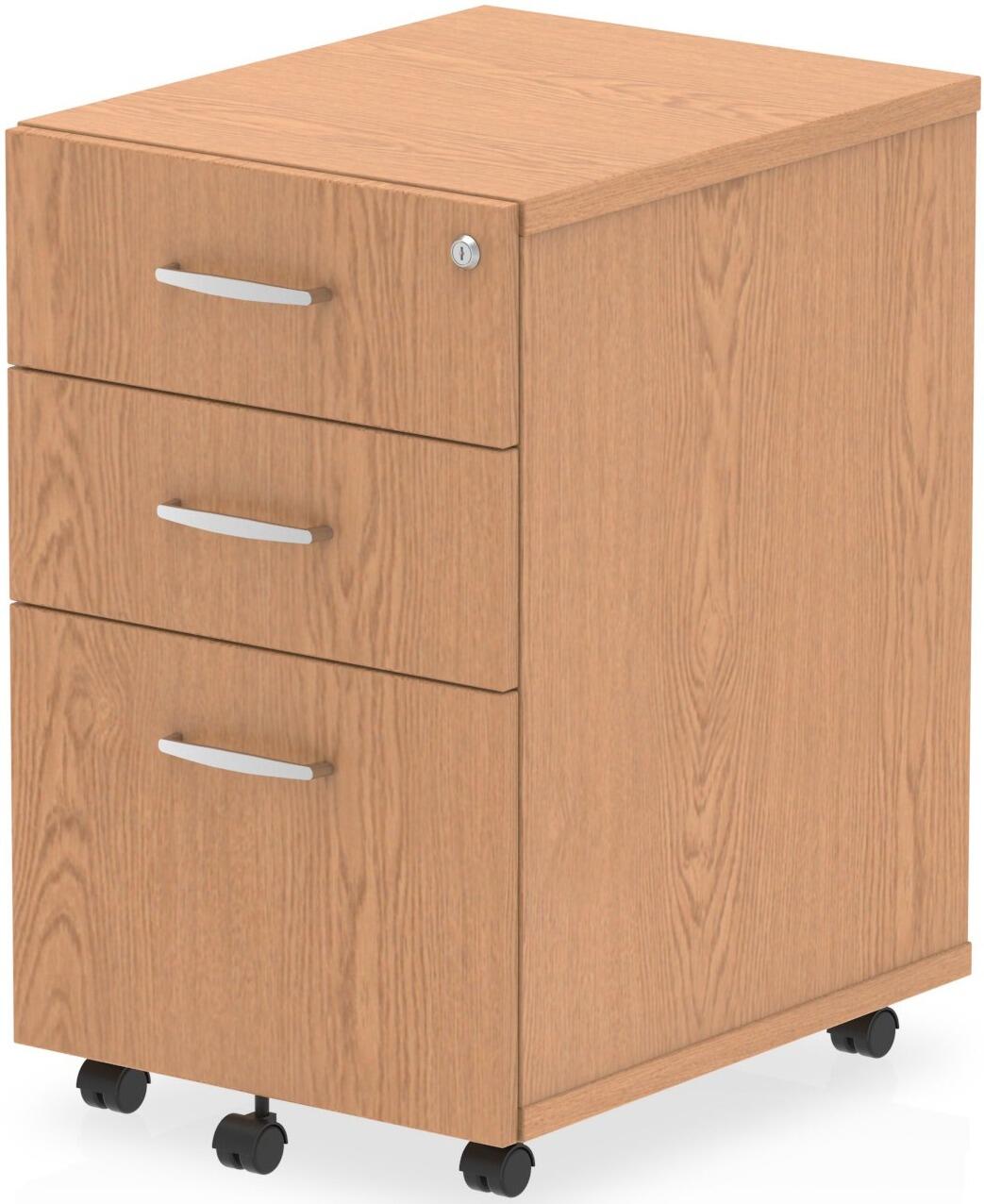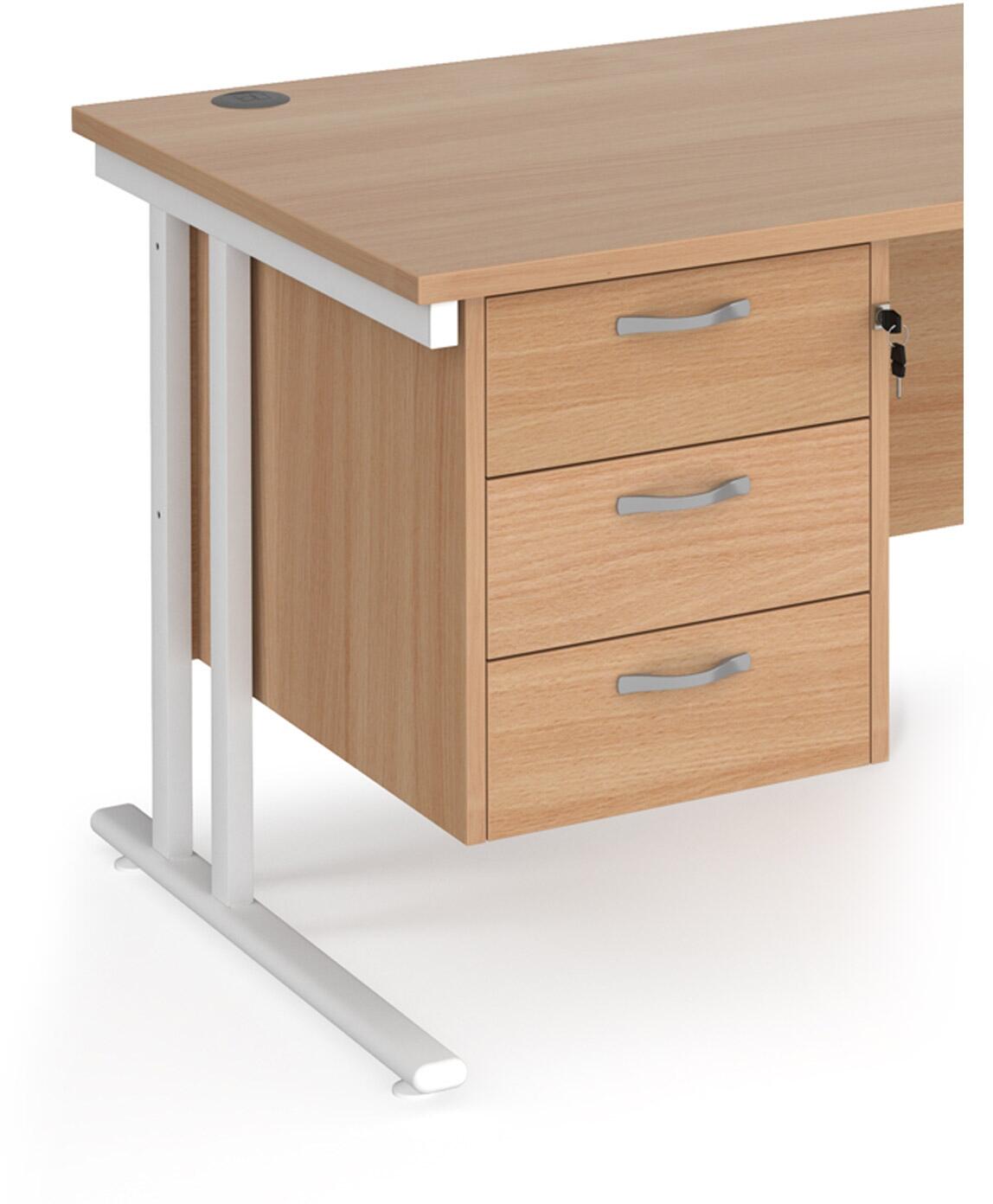 Our range of products from Gentoo, demonstrate excellent quality which remain budget friendly. They feature fixed drawers and feet, proving a versatile and spacious storage option. They are available in a range of natural oak finishes. The 25mm wood's melamine finish is heat and scratch resistant. Joints and fittings are hidden, providing a clean-cut look. These products are already built for you, you just need to attach the handles and wheels. and are delivered free of charge. Delivery is usually 3-5 days; however, it does state clearly on each product how long delivery will take.
Office Furniture Direct has a great selection of desk pedestals for both home offices and commercial offices. We offer a wide range including mobile pedestals, wooden pedestals, metal pedestals and slim pedestals. Most of our 2 drawer pedestals and 3 drawer pedestals feature a large drawer which can be used to store large files or folders. Many of our under desk drawers feature lockable drawers and cupboards, making them ideal for locking away sensitive documents or personal items of value. Many of our wooden and metal varieties are available in various colours to suit your office style. Choose from Beech, Grey Oak, Oak and Walnut along with traditional metal finishes such as steel grey and white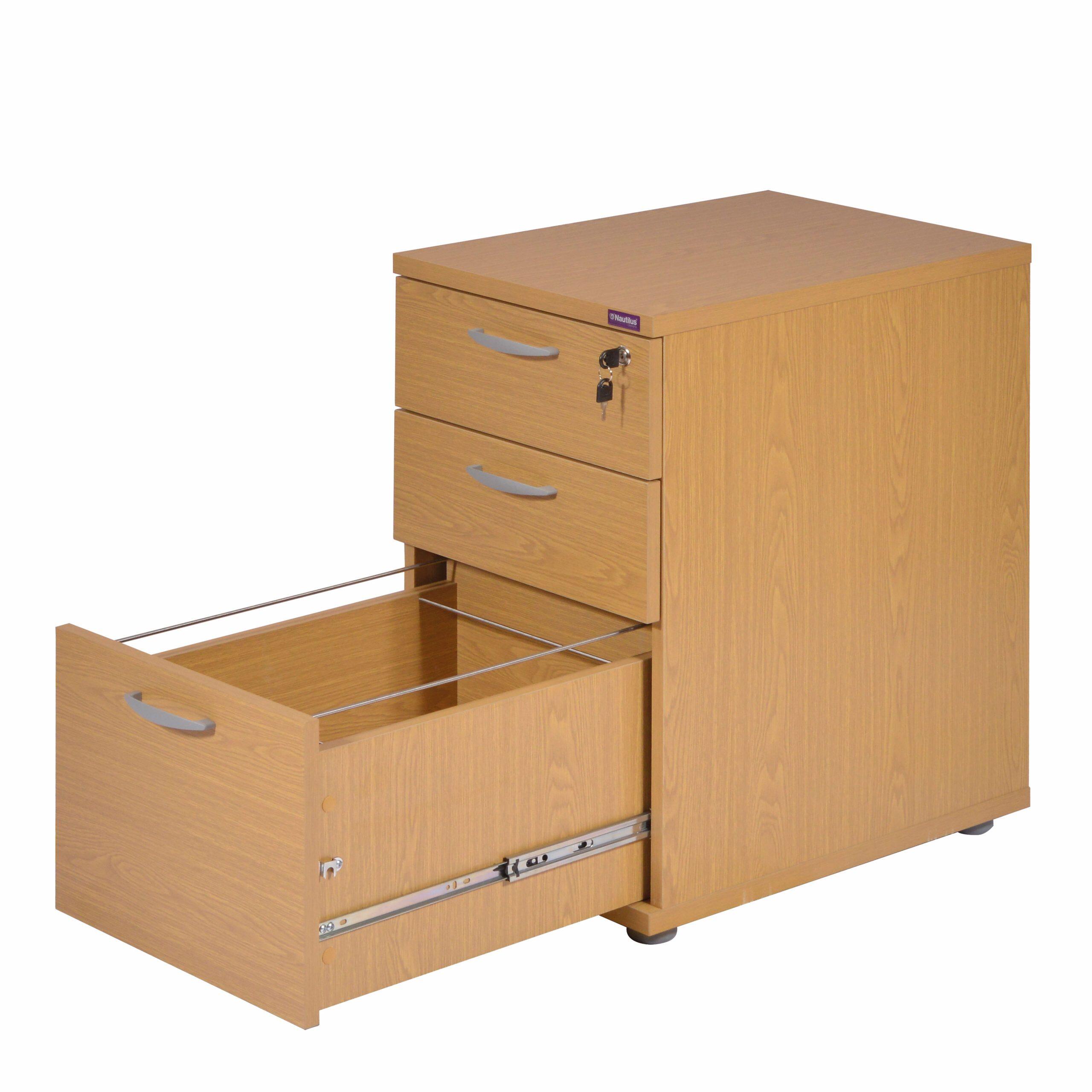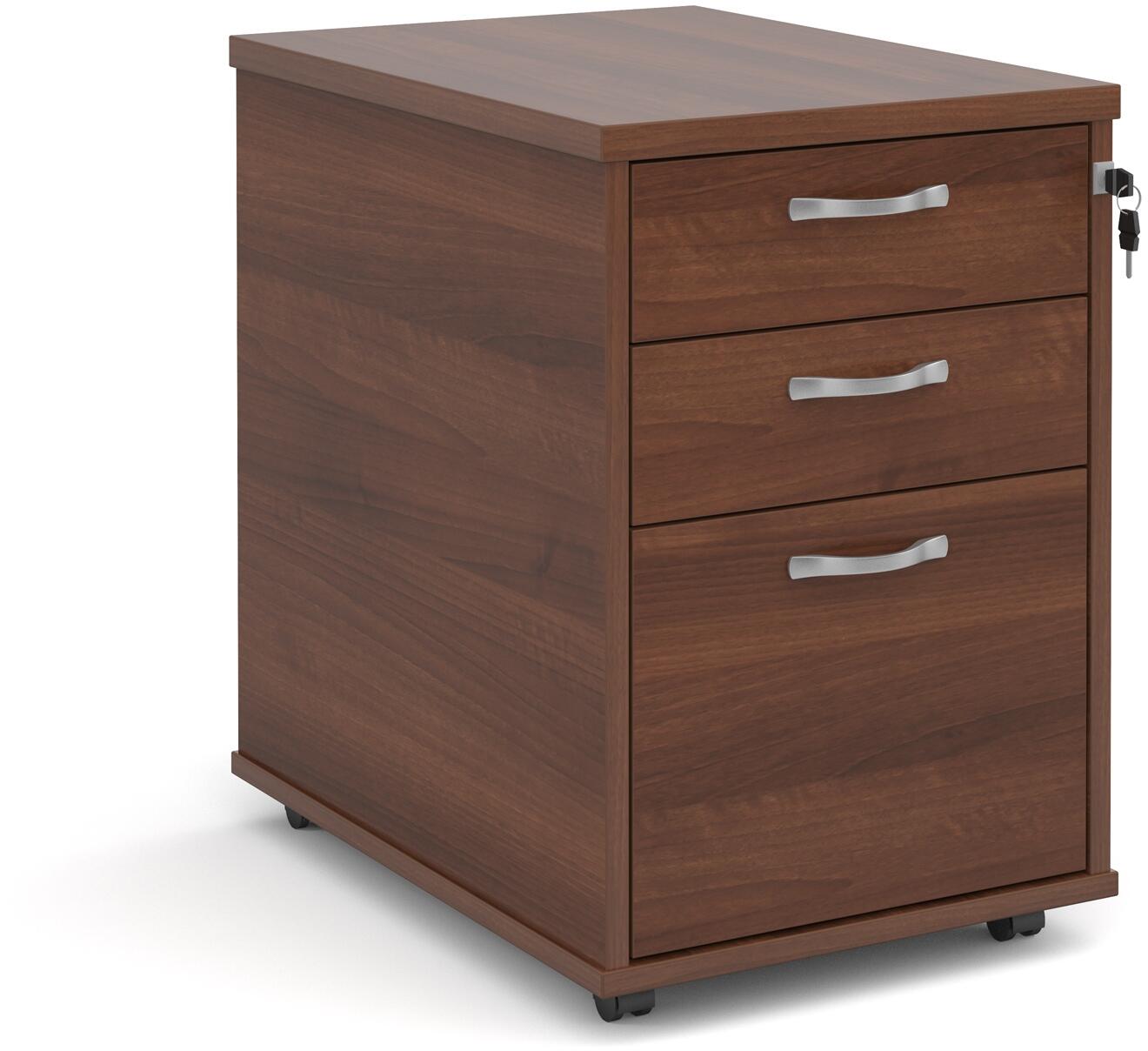 Accessible and versatile, the Dams collection is all an office needs in the way of under office pedestals. The graphite coloured, full width handles differentiate this range from its competitors. Their under desk storage is mobile or fixed with a range of sizes available. Each Dams product is fully lockable for security and privacy allowing you to keep valuable and sensitive items under lock and key. The Executive desk mobile pedestals range has silver metallic handles and accepts A4 and foolscap files. An excellent choice of multiple drawers and wood finishes are also available.
Mobile pedestals are an excellent choice when it comes to a busy office environment and multiple people are using the same resources. Because they have wheels, they can be moved to different locations at any time of the day or night. This allows staff to share storage space and mobile filing systems. If you have a small office space then our Formetiq range of products would be ideal Combining pedestals with cupboards, they have created a mobile caddy unit that offers excellent space saving features and the very best in filing features.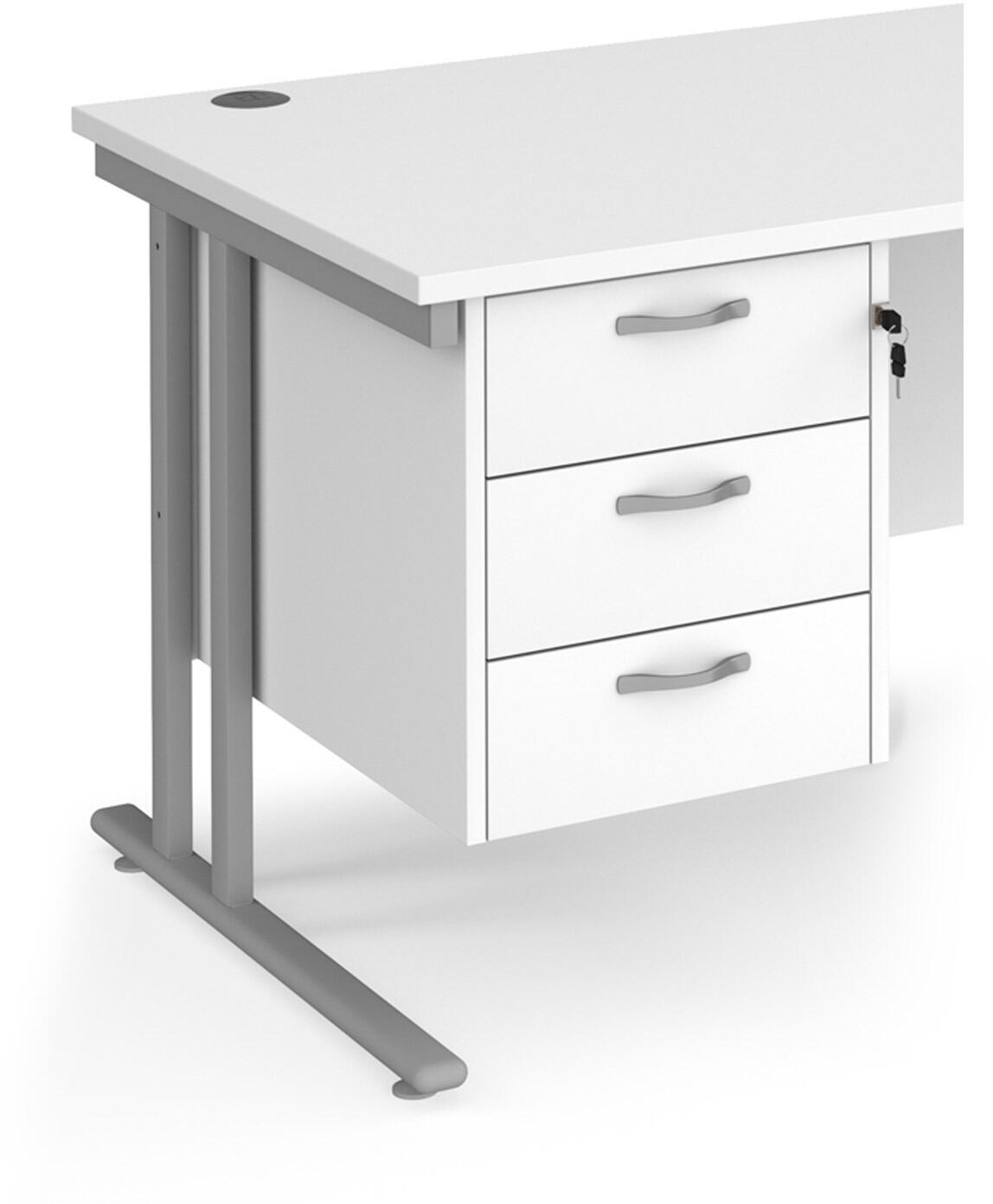 The Elite options include a wide range of finishes from natural woods to black and white glosses. They also offer overhanging top shapes, used to add extra space to the side of the desk. The Elite collection features a long 5-year warranty as well as right hand and left-hand options. They are lockable with spacious drawer; 2 keys are provided per lock.
The Elite Range benefits from the free delivery service upon purchase. Each Elite purchase also include installation to the ground floor of any UK property.
All our products have excellent manufacturers guarantees and are of an outstanding quality. All our models on this page can be paired with an office desk to match so be sure to browse through our range of office desks. If you are looking for a large order of office furniture, we do offer large order discounts, get in touch with us to discuss further. If you are looking for filing, take a look at our filing cabinet range or our homepage for all other office supplies.
Delivery Times
Delivery times for our products vary depending on which range you are purchasing. Each range and individual product state their estimated delivery time during checkout. We deliver to most UK locations with free delivery as standard. To discuss delivery details, call us on 01480 220311. We also offer an optional nationwide installation service. This is a completely optional service where if you choose to make use of it, our fully trained installers will install the furniture in the locations that you choose as well as disposing of any packaging in an environmentally friendly manner