Office Furniture Direct offers a large variety of executive chairs, featuring a range of styles and upholstery to match the modern office. Choose from a wide range of brands, sizes, colours, and styles.
Welcome to Office Furniture Direct, your one-stop-shop for all your office furniture needs. We are excited to introduce our wide range of executive chairs designed specifically for commercial and office spaces. Our executive chairs are the perfect blend of style, comfort, and functionality, making them a great choice for executives, managers, and other high-level personnel.
We understand the importance of comfortable seating for long hours of work and meetings which is why our office chairs are made with premium quality materials that are not only durable but also offer great comfort and support to the user. We offer a variety of designs, colours, and sizes to suit different office interiors and personal preferences.
Whether you need a classic leather executive chair or a more modern mesh-back design, we have something for everyone. Our models are also adjustable, allowing users to customise their seating position for maximum comfort and productivity.
At Office Furniture Direct, we pride ourselves on our commitment to providing top-quality products and exceptional customer service. Our team of experts is always available to help you choose the right model that meets your needs and budget. Shop with us today and experience the best in office furniture solutions.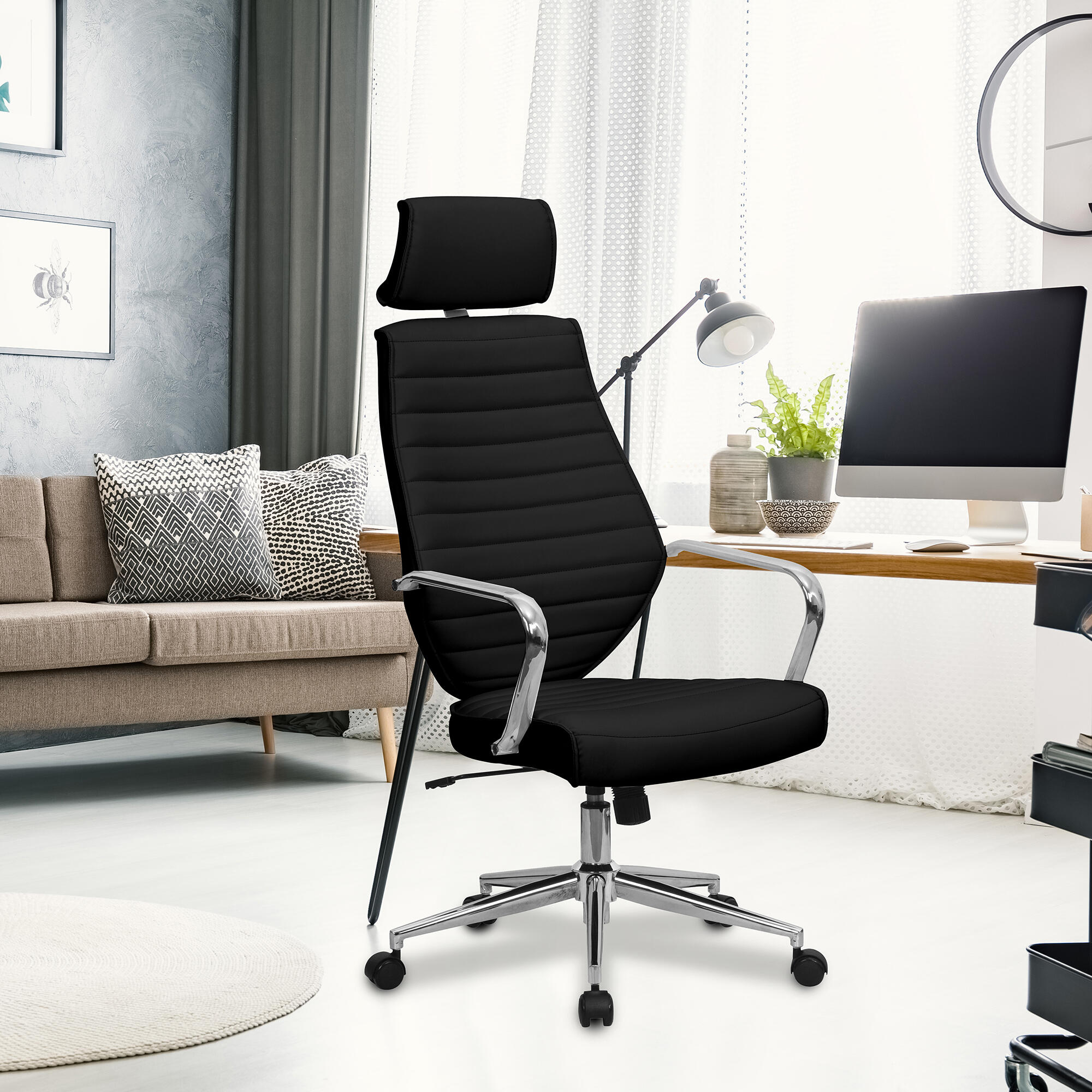 Our Range
Executive chairs are designed to provide comfort and support to individuals who spend long hours sitting at a desk. They are typically made from high-quality materials, such as leather or mesh, and have a range of ergonomic features to promote good posture and reduce the risk of strain or injury.
At Office Furniture Direct, you will find a wide range of executive chairs to choose from, each with its own unique set of features and benefits. Here are a few examples of the types of executive chairs you can find on our website:
Leather Executive Chairs: These are made from high-quality leather and are designed to provide a luxurious and comfortable seating experience. They often have padded armrests and backrests, as well as adjustable height and tilt features.
Mesh Executive Chairs: These are designed to provide excellent ventilation and breathability, which can help to keep you cool and comfortable even during long periods of sitting. They often have adjustable lumbar support and armrests, as well as a range of tilt and height adjustments.
Ergonomic Executive Chairs: These are designed to promote good posture and reduce the risk of strain or injury. They often have a range of adjustable features, including lumbar support, armrests, and headrests, as well as a tilt function to help you find the most comfortable position.
In addition to these types, Office Furniture Direct also offers a range of other features and options to choose from, such as different colours, sizes, and materials. Whatever your needs and preferences, you're sure to find a model that meets your requirements.
Best for Price/Value for Money
The Cavalier Fabric is an excellent option for those looking for a comfortable and ergonomic office chair that won't break the bank. This chair is designed to provide optimal support for the user's back, with its contoured backrest and padded seat.
One of the standout features is its knee tilt adjustment, which allow the user to find the most comfortable position for their legs. The chair also has a gas lift mechanism that allows the user to adjust the height of the seat to their desired level.
In terms of value for money, it offers a lot of features and comfort for its price point. While it may not have all the bells and whistles of higher-end office chairs, it is still a solid option for those who need a reliable and comfortable chair for their workspace.
Moreover, this is made from high-quality materials, ensuring that it will last for years of use. The chair's fabric is durable and easy to clean, making it a practical choice for busy offices.
Overall, if you're looking for an affordable office chair that provides comfort and support, this is an excellent choice. Its adjustable features, sturdy construction, and ergonomic design make it a great value for its price.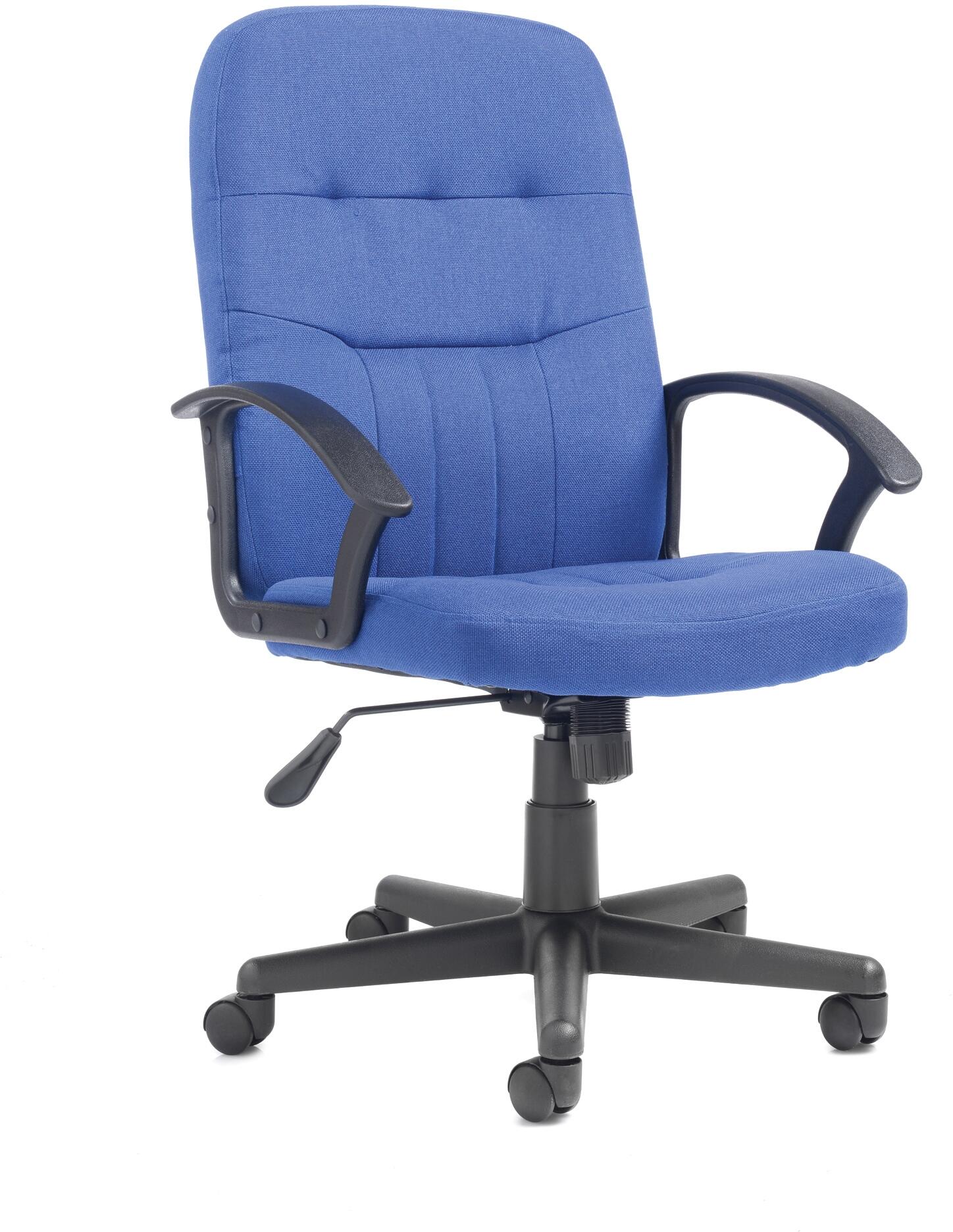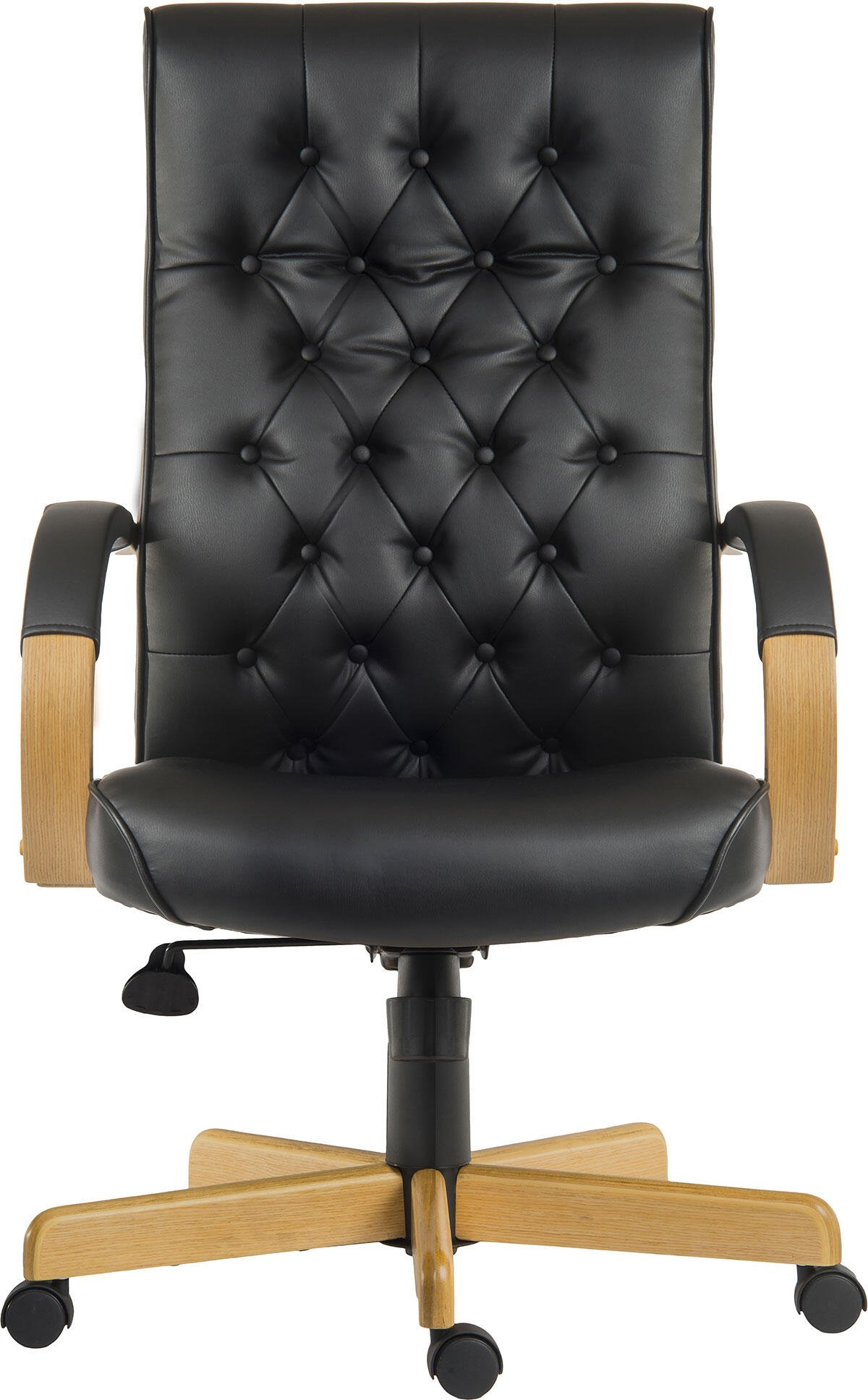 Best for Style
The Dynamic Chesterfield is a luxurious and stylish addition to any office. This chair combines traditional design elements with modern comfort and functionality, making it a perfect choice for those who value both form and function.
One of the key features of this chair is its classic Chesterfield design, which is characterized by the deep buttoned backrest and armrests. This gives the chair a timeless and elegant look that is sure to impress anyone who walks into the room. The black faux leather upholstery further adds to the sophisticated look of the chair, while the chrome base and arms provide a sleek and modern touch.
In addition to its stylish appearance, it also boasts a number of practical features. It's fully adjustable, allowing you to customize it to your individual needs and preferences. The height can be easily adjusted, as can the tilt tension and tilt angle, so you can find the perfect sitting position for maximum comfort and productivity.
It's also designed to provide excellent support for your back, thanks to its high backrest and comfortable padding. This means you can sit for hours on end without experiencing any discomfort or strain on your body. The armrests further add to the comfort of the chair, providing a place to rest your arms and reducing tension in your shoulders.
Overall, it is a stylish and comfortable choice for anyone looking for a high-quality office chair. Whether you're looking to impress clients with your office decor or simply want a chair that looks and feels great, this is sure to meet all your needs and exceed your expectations.
Best for Functionality
The Comfort Ergohuman is is a highly functional model designed to provide users with comfort, support, and versatility. Here are some of the key features and functions that make this model stand out:
Adjustable lumbar support: It comes with an adjustable lumbar support system that allows users to customize the chair to their specific needs. This feature helps to promote good posture and reduce lower back pain.
Height adjustable: This can be easily adjusted to accommodate users of different heights, ensuring that everyone can find a comfortable seating position.
Tilt and tilt tension adjustment: Featuring a tilt mechanism that allows users to tilt the seat and backrest in unison, promoting a more relaxed posture. Additionally, the tilt tension can be adjusted to suit individual preferences.
Seat depth adjustment: The seat depth can be adjusted to provide optimal support for the user's thighs, reducing pressure on the back of the legs and improving circulation.
Height and angle adjustable armrests: The armrests can be adjusted to the user's preferred height and angle, providing additional support for the arms and shoulders.
Breathable mesh backrest: It features a mesh backrest that allows air to circulate, keeping users cool and comfortable even during extended periods of sitting.
360-degree swivel: Offering a swivel of 360 degrees which allows users to easily turn and reach for items on their desk without straining.
Five-star base with casters: A sturdy five-star base with casters that provide smooth mobility, allowing users to easily move around their workspace.
Overall, the Comfort Ergohuman is a highly functional model that provides users with a wide range of adjustable features to ensure maximum comfort and support. Its sleek and modern design also makes it a great addition to any office space.
If you'd like to find out more about our products or would like to enquire about stock, you can call one of the team on 01480 220311 who will be on hand to help with your query. Alternatively, why not browse our leather office chairs, gaming chairs, or mesh office chairs for even more choice?
Delivery Times
Delivery times for our products vary depending on which range you are purchasing. Each range and individual product state their estimated delivery time during checkout. We deliver to most UK locations with free delivery as standard. To discuss delivery details, call us on 01480 220311. We also offer an optional nationwide installation service. This is a completely optional service where if you choose to make use of it, our fully trained installers will install the furniture in the locations that you choose as well as disposing of any packaging in an environmentally friendly manner.
Why Use Us?
Office Furniture Direct have been supplying quality office furniture to offices throughout the UK for over 15 years. We have developed a reputation for offering quality goods and excellent prices. We always have a wide range for you to choose from and always give the best warranties on the market. We aim to provide excellent customer service and ensure that our customers get the products they
Related articles
Feb 12
More than ever before, colours are conquering the working environment. Modern offices are escaping from the bland cubicle design of early workplaces by incorporating natural tones and colourful features. Extensive research has linked a pleasant...
Sep 12
Best Orangebox Task Chair - A review by our editor Orangebox are specialists in ergonomic office chair design and have two decades of expertise in the office furniture market. Since their launch in 2002, Orangebox have been at the forefront of ...
Aug 13
Teknik Office Chair Review by our editor The Teknik company have over twenty five years of experience in the office seating and furniture market. Their expertise can be seen through their wide and diverse product range. They have helped evolve ...
Frequently asked questions
Can you install my furniture?
We offer a full installation service across mainland UK. You can select the installation service at the checkout stage. Alternatively, call us on 01480 220311 to discuss your requirements.
Do I need to assemble my furniture?
Most products will need to be assembled. Assembly instructions are provided with each item, and in some cases videos will be available to guide you through the process.
Some items will come fully or part assembled, however, all products will state if they require assembly or not under our service options.
Does this come with a warranty?
Yes, all our products come with a minimum of one-year warranty. Certain items will offer warranties which range from two to ten years. Warranties are stated on each product under the "Specifications" tab in the product description.