We understand how important a comfortable office chair is when you spend long hours sitting at a desk and working at your computer. At Office Furniture Direct, you will find a wide range of different types of office chairs to suit all types of office workers requirements.
We understand how important it is for you to have a comfortable office chair when you spend long hours sitting at a desk and working on your computer. Whether you are looking for office chairs or desk chairs for your office desk, we can help you find what you need. There is a diverse selection of office chairs available to choose from when you shop with Office Furniture Direct.
Standard swivel chairs, as well as more specialised products such as 24 hour and heavy-duty chairs, are among the many types of office and home office seating options that are available from our extensive inventory. Take a look at our ergonomically designed kneeling chairs if you suffer from back issues or simply prefer to work in a manner that is distinct from that of others.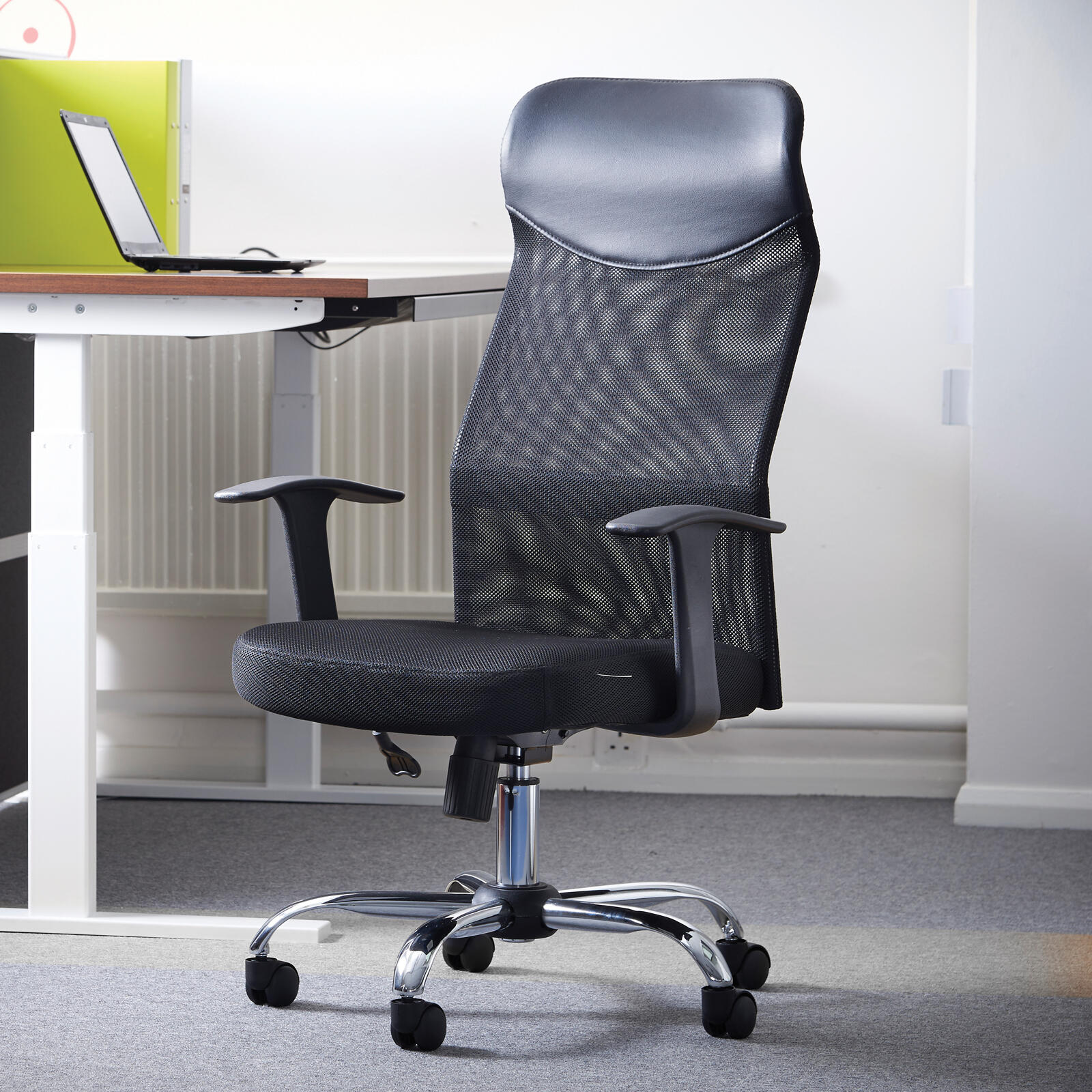 Our Office Chairs
We carry a diverse selection of office chairs, each of which is designed to serve a particular function in a particular setting. You have a wide range of options to select from, including chairs with supports for your back and neck, as well as chairs in a variety of colours, materials, and sizes. In the following paragraphs, you will learn a little bit about each type, including what it is used for and the kinds of environments that it performs the best in.
These are the models that are the most widely distributed in the market today. They come in a wide variety of colours and come with a variety of accessories, such as arm rests and back supports. These can be utilised in virtually any sitting activity that takes place in an office setting. These kinds of office chairs are commonplace in workplaces located all over the United Kingdom. It is not difficult to understand why they are the office chairs that sell the best here at our store. They are adaptable, have a variety of settings, are available in a variety of options, and there is one that is suitable for every person. Have a look through our selection to locate the most comfortable and reasonably priced operator office chairs. Every one of our models comes with a selection of different leathers, faux leathers, and fabrics from which to choose. We are certain to have the chair that is appropriate for your workplace, whether you are looking for a standard chair, an executive chair, or a heavy-duty operator chair.
A task chair provides an additional level of functionality in comparison to your standard models of chairs. These model shave swivel and tilt functions in addition to seat height and depth adjustments, adjustable armrests, and adjustable lumbar support, making it the most flexible option currently available on the market. Your sitting position can be improved with the use of a chair designed for specific tasks. They are adaptable, which enables you to shape them to fit your requirements exactly. You can change the height as well as the depth of the seat, which will greatly improve both your comfort and its usability. When you have to sit at your desk for long periods of time, this can improve both your health and your productivity. We have high-backed models available, each of which includes a head rest as well as additional support for the lumber region. Those who are required to sit still for extended periods of time during the course of their workday can benefit from the health benefits of ergonomic support that is thoughtfully designed into their chairs. They are adaptable, can be used in an office or a home office, and maintain their level of comfort throughout the day.
These are an upscale, high-backed model that provide comfortable support to the entire upper body. They are available in a variety of colours. Executive chairs are designed to provide the utmost comfort while also making a strong and positive first impression. Because of this, they are the standard option for highly respected professionals and can frequently be found in the office of the CEO. As a result of the fact that people spend a significant amount of time sitting down when they are in an office setting, maximising the comfort of your chair can significantly improve both your well-being and the level of comfort that you experience. Our selection is sure to become one of the most treasured aspects of your workplace thanks to the harmonious combination of style and comfort that they provide. The hue and material of your chair have the potential to have an impact on the impression you wish to give, which in turn can have repercussions for the organisation. The layout of your office space is an essential component of the success of your business, particularly in workplaces that receive a high volume of visitors.
Our selection of ergonomic chairs offers a variety of features, such as lumbar support and headrests, to provide the user with the most pleasurable and stress-free experience that is at all possible. These chairs were designed to improve comfort and provide optimal support for the human body. The employees are able to remain comfortable while working for longer stretches of time thanks to these chairs, which can be used round-the-clock.
These models are not supported by the conventional configuration of four legs, as you might expect; rather, they are held up by a single leg that has been bent into the shape of an L, and this leg also serves to support the base of the model. The chair with the cantilever design offers superior support and is an excellent choice for use in areas such as waiting rooms, meeting rooms, or even at your workstation. Additional seating that can be used for a variety of purposes can be provided in the office with the help of our chairs, which are offered at prices that are competitive. In contrast to other approaches to seating, this one includes a degree of balance, which, in addition to enhancing comfort, can be adapted to the position in which you most enjoy being seated. Even when a significant amount of weight is placed on the seat, the design of the legs ensures that the chair will remain stable and comfortable. Select the chair that fulfils your requirements while also complementing the aesthetic of your home or office. Products from a variety of high-quality, industry-leading manufacturers are featured on our website. Choose the chair that leaves the most favourable impression, whether it is made of leather, mesh, or fabric.
This model is heavy duty and is able to take more weight and is more durable than a standard chair. It does exactly what it says on the tin, which is that it is heavy duty and capable of taking more weight. These office chairs are ideal for those who work in a sedentary position for extended periods of time because they provide additional support and comfort. The large chair, which can be purchased in a number of different colours and designs, is an important component of the aesthetic of an office. Comfort and support are the two most important qualities that need to be ensured throughout the course of the workday, otherwise employees run the risk of a variety of health problems as well as a decrease in performance. The use of heavy-duty chairs is both a quick and permanent solution that provides effective support and a durability that is able to cope with the stresses of an intensive workplace or a family home.
These models are intended for continuous use, as their names imply, so their construction reflects that priority. As a result, they are ideally suited for work environments in which all available work spaces are being utilised at all times, such as shift work. Individuals who are required to remain sedentary for the majority of their workday should consider using 24-hour office chairs because they are built to last longer and offer a higher level of comfort. Our premium chairs provide unmatched levels of stability and long-term satisfaction, making them an excellent choice for call centres, intensive offices, and workers who rotate shifts. When workers are seated in the wrong way, they put themselves at increased risk for a wide variety of health problems. These risks are exacerbated by the extended hours that are typical of sedentary work. The options to adjust the height and tilt are a quick fix for health issues that have been present for a longer period of time and help promote a healthy position. Their multiple mechanism lumbar support makes it possible to tailor the chair to the employee's specific needs, which improves both their health and their level of job satisfaction.
We have assembled a comprehensive selection of conference chairs and seminar seating that is suitable for a wide variety of professional settings. Seats are offered with a choice of either upholstered fabric or vinyl material, and a range of colours is also provided. These models can be stacked for use at events such as conferences, lectures, and meetings. The chairs are ideal for use in offices and public gatherings due to their ability to be stacked and their lightweight construction, which makes stacking them a breeze. The ability of these models to save space in addition to their other benefits makes them an excellent choice for both storage and practical use throughout the year. Rather than getting caught short, make an investment in these products that are both high-quality and affordable. These are excellent options for large get-togethers of people, like conventions or events. Because they are offered in such a wide variety of colours and designs, you will easily be able to find one that coordinates with the aesthetic of your workplace.
You might find this kind of office seating in a waiting room or a reception area, as that is where it is most likely to be found. You will find everything you require for your greeting area in this location, including a variety of seating options with one, two, and three seats. Our selection of reception chairs, which are designed to provide guests with the highest possible level of comfort, will help to generate an inviting and positive first impression among guests. This varied selection of chairs is not only long-lasting but also useful for businesses of varying sizes due to its capacity to accommodate up to three individuals and its availability of modular furniture options.
This assortment will provide everything that you require to outfit your staff's favourite place in the workplace, whether it is a small office café or a large work canteen. The location does not matter. Our selection of canteen chairs features a variety of colours and styles, and each one is designed to be simple to clean and maintain while still offering the highest possible level of comfort. These chairs are versatile and can adapt to a wide variety of settings thanks to their uncomplicated yet sophisticated designs.
These chairs are ideal for hosting meetings with both internal staff and external stakeholders, as well as for greeting guests when they arrive. In this section, you will find the most recent models, which are not only contemporary and fashionable but also practical. Our conference chairs are built to last and feature a professional appearance; they are ideal for executive meeting rooms as well as guest rooms. When customers come to your place of business, they will frequently be one of the first people to see the boardroom chairs and other pieces of office furniture. Because of this, they need to have qualities such as comfort, stability, and an appealing appearance. In addition to these qualities, our collection also provides additional benefits while maintaining an accessible price point. You should have no trouble finding meeting chairs that complement the style of your office because there is such a diverse selection of materials and design options available.
These models are a great option for when you are working at a height that is above normal desk height because they offer adjustable heights, which means that you can still work at a normal desk height as well. This makes them a very popular choice. These chairs offer seating that is elevated above the norm and are popular among a diverse range of professionals. They are ideal for artists, architects, and those involved in the specification process. Investing in a chair that is stylish and durable is an excellent way to improve both your productivity and your health. Choose the colour and style that best suits your personality while still benefiting from affordability and comfort.
Our selection of stools, which are available in a variety of stylish configurations and surface treatments, are not only long-lasting and dependable but also present a stylish appearance that is suitable for a wide range of environments and come at an affordable price. There is a product in this range that is suitable for everyone, thanks to additional features like an adjustable height and a seat that can rotate through 360 degrees. Making the switch to an adjustable stool will improve both your health and the amount of work you get done. These seating solutions are designed to maximise productivity and creativity, making them ideal for a variety of settings such as offices, hair salons, and other functional workplaces. Employing active seating, a novel approach to working that takes into consideration both your health and performance, is a great way to make an impression. Our bar stools are well-appointed with features, in addition to being stylish and comfortable. Browse our products to learn about the specific advantages they offer, and read the following paragraphs to learn more about our collection.
These models are typically used for activities that require you to reach forward for a short period of time. They provide additional support and comfort. There is a specific kind of chair known as an ergonomic kneeling chair that allows you to sit in a position in which your thighs are lowered to an angle that is somewhere between sixty and seventy degrees from the vertical position. To get the most out of it, use it for activities that only last a few minutes and require reaching forward, such as drawing, sewing, or writing. You'll end up with better posture, a stronger core, and less lower back pain as a result of this because it forces your body to be seated in a more upright position, which helps strengthen your core muscles. They should not be confused with an ergonomic chair; if you are looking for one of those, you should check out our selection of ergonomic chairs instead.
Accent chairs can be used to inject a little bit of colour into a space or to draw attention to themselves in comparison to other pieces of furniture. They are available in a wide variety of shapes, fashions, and states of mind. You can make them into the form of a throne, or you can make them plush and cuddly for some relaxation by the fire. The addition of a dash of colour, some extra seating, and a great deal of style can completely transform the appearance and atmosphere of a space when the appropriate product is selected. Pick from among a variety of well-known brands that are known for offering excellent products at competitive prices.
Our selection of tub chairs, which are both stylish and comfortable, is an excellent choice for use in reception and waiting areas. It is possible to make a guest-friendly entrance in a variety of different environments thanks to the availability of a wide variety of design options. they are not only appropriate for waiting areas and reception rooms, but they can also be an extremely useful addition to staff break areas. This provides them with an additional level of comfort during times designated for relaxation. You are sure to find something that complements the aesthetic of your workplace among the numerous available options.
Occasional chairs frequently resemble accent chairs and can be utilised for the same function. Imagine that you have a room dedicated to your library, and that you occasionally find the time to read some of the books there. One can find a chair in that particular room. That chair is used infrequently, and the only time someone is sitting in it is when they are reading in that room. Having said that, it is a unique chair. When reading in the room with a table lamp, it not only complements the space but also provides a high level of comfort. This is a chair that is used only occasionally. It is not necessary to only use it in rooms designated as libraries. They are versatile enough to be used in a variety of settings, including the living room, office waiting areas, rest rooms, chill out areas, and many other areas of the home and workplace.
When working in an industrial setting, it is sometimes necessary for staff members to get up and move around more frequently while they are seated. The industrial chairs in our selection provide users with a solution that is not only robust but also simple to clean and allows for freedom of movement. These kinds of chairs are perfect for use in factories, site offices, and manufacturing plants because they give workers the opportunity to sit down and rest their feet while still permitting them to move freely about the workspace. Because users can twist and turn in the warehouse chairs, these models are frequently used in picking and packing warehouses. This gives users the flexibility they need to reach a variety of items and pack them. You'll find that these models are used quite frequently in picking and packing warehouses.
Swivel chairs have rapidly become an essential piece of furniture in any office setting, including those in which people work from home in the living room. They make turning and talking to other members of the team easy to do thanks to the freedom of movement they provide. Having wheels underneath your desk makes it much simpler to get in and out of it whenever you want. Work environments that require you to work across multiple stations are a good fit for some of our taller options because these can be used to great effect in those settings. Our swivel office chairs will be helpful in a variety of settings, including the one in which you are currently employed, so feel free to take advantage of them. We have swivel chairs that are designed to accommodate people of varying heights, widths, and weights, so we should have the one that you are looking for. You can be sure that you will be getting an excellent product at an excellent price thanks to our promise that we will match any lower price you find.
The absolute pinnacle of excellence. Utilize one of our superior mesh chairs, which was designed with the user in mind, to get a head start on your working day. Our selection is composed of high-quality materials and is designed to have a look that is appropriate for today's offices while also being cosy, functional, and long-lasting. Improving office furniture is the most effective method for rapidly and irreversibly enhancing the quality of the working environment. Put your best foot forward in the workplace by investing in high-quality office furniture; this will increase both the satisfaction of your staff and the admiration of your guests.
Our selection of leather chairs, which come in a variety of styles, is versatile and can be put to a number of different uses. These chairs, which are constructed out of dependable leather materials, come with a warranty that lasts up to five years and are designed to be used for extended periods of time. As a result, they enable the staff to maintain their productivity and efficiency at the lowest possible cost. If you are looking for a leather office chair, you have come to the right place because we have a large selection of chairs of a high quality that are sold at affordable prices. This includes both our chairs made of synthetic leather as well as those made of genuine leather. These are constructed using genuine leather, in contrast to our PU leather, which has been coated with polyurethane, making it resistant to stains and imparting an executive-level shine. Both chairs made of PU leather and chairs made of other materials are appropriate for use in offices and in home offices. Chairs upholstered in leather are available from Office Furniture Direct in a variety of colours, including black, white, and cream.
We provide you with a wide selection of computer chair designs, ranging from operator chairs to heavy-duty chairs, so that you can make an informed purchase. We have the perfect chair for you, no matter what your office design is, your budget, or anything else, and we even offer options that can help with issues such as back pain, hip pain, and other types of pain. This collection includes some of the most successful offerings currently available on the market. Add-ons and different versions of many of the products are available to purchase separately. Colors and service options can be adjusted to better meet the requirements of your particular place of business. Computer chairs are a great option that can be used anywhere, making them ideal for the home, office, or any other workplace.
Check out the available options for the features of whichever type you decide to go with. There is a wide variety of options available to choose from, and depending on the type of seating, you have choices such as:
Backrests that can be adjusted to accommodate users of varying heights and widths
Height that can be adjusted to ensure comfort regardless of the length of the user's legs
Support for the lower back that enables more comfortable working positions
Armrests that can be adjusted to help prevent muscle strain and injuries.
Tilt function mechanisms for times when you want to relax and stretch out.
A range of colours, upholstery materials (including faux leather), and price points are available.
Our selection of office desks is another way in which you can further customise your working space. Because the typical person spends about 40 hours per week at their job, investing in the improvement of their workspace to make it as comfortable as possible is an important investment. Investing in office storage is another way to reduce the amount of chaos in your workplace. This will allow you to keep your desk clear of clutter, ensure that paperwork is filed appropriately, and ensure that stationery is stored in the appropriate places.
What is the best way to sit in in my office chair?
The constant discomfort that comes along with poor posture is something that many people who spend their careers working in offices have to deal with. Because of this, it is of the utmost importance to be conscious of your posture throughout the course of your workday. Your state of mind and sense of self-confidence can both benefit from practising good posture, in addition to your physical health. The following is the correct manner in which one should sit in a chair:
Adjust the seat's height so that your feet are flat on the floor and your knees are in line with (or just below) your hips. This can be done by using the adjustment feature on the seat.
Maintain a good posture by sitting up tall and pressing your hips against the back of the chair.
Adjust the back of the seat so that it forms an angle of one hundred to one hundred ten degrees. In addition to this, you need to check that both your upper and lower back are supported. You are able to accomplish this by making use of a few pillows or back supports.
If you do your work at a computer screen, you should ensure that you are seated at a distance of at least 20 inches from the monitor.
Throughout the day, remember to keep your shoulders relaxed and avoid rounding them forward or bringing them up toward your ears.
Can you install my office seating?
We offer a full installation service across mainland UK. You can select the installation service at the checkout stage. Alternatively, call us on 01480 220311 to discuss your requirements. Many of our products are also available for next day delivery.
We provide a comprehensive installation service that spans the mainland of the UK. During the checkout process, you will have the option to select the installation service. Alternately, you can reach us by calling this number: 01480 220311 to discuss your needs. A good number of our products can also be delivered the following business day if you so choose.
Do I need to assemble my chairs?
The vast majority will require assembly. Instructions for putting together the item come packaged with every purchase, and in some instances, videos are also included to walk you through the process. Some items will arrive fully assembled, but the instructions for all products will specify whether or not they need to be put together.
Do you offer a warranty?
Yes, a warranty of at least a year is included with each and every one of our products. There are some manufacturers that provide guarantees that can last anywhere from two to five years. Under the "Specifications" tab of the product description, you can find information about the warranties that apply to each individual item.
If you'd like to find out more about our office chairs or would like to enquire about stock, you can call one of the team on 01480 220311 who will be on hand to help with your query.
Delivery Times
The amount of time it takes to deliver our goods can change depending on which product range you order from us. During the checkout process, the estimated delivery time for each range and individual product is displayed. We offer free delivery as standard and can ship to the majority of locations in the UK. Call us at this number to talk about the specifics of the delivery: 01480 220311. A nationwide installation service is also available as an additional service option. This is a completely optional service, and if you decide to make use of it, our fully trained installers will install the furniture in the locations that you choose as well as dispose of any packaging in an environmentally friendly manner. If you do choose to make use of this service, however, our installers will also install the furniture in the locations that you choose.
Related articles
Feb 12
More than ever before, colours are conquering the working environment. Modern offices are escaping from the bland cubicle design of early workplaces by incorporating natural tones and colourful features. Extensive research has linked a pleasant...
Sep 12
Best Orangebox Task Chair - A review by our editor Orangebox are specialists in ergonomic office chair design and have two decades of expertise in the office furniture market. Since their launch in 2002, Orangebox have been at the forefront of ...
Aug 13
Teknik Office Chair Review by our editor The Teknik company have over twenty five years of experience in the office seating and furniture market. Their expertise can be seen through their wide and diverse product range. They have helped evolve ...
Frequently asked questions
Can you install my furniture?
We offer a full installation service across mainland UK. You can select the installation service at the checkout stage. Alternatively, call us on 01480 220311 to discuss your requirements.
Do I need to assemble my furniture?
Most products will need to be assembled. Assembly instructions are provided with each item, and in some cases videos will be available to guide you through the process.
Some items will come fully or part assembled, however, all products will state if they require assembly or not under our service options.
Does this come with a warranty?
Yes, all our products come with a minimum of one-year warranty. Certain items will offer warranties which range from two to ten years. Warranties are stated on each product under the "Specifications" tab in the product description.