The design of the bench desks are intended to provide a large workspace for multiple users. The desk can hold multiple CPU's and screens, and can be accessorised with monitor arms and CPU holders.
Key Features of our Bench Desks
| | |
| --- | --- |
| Up to 5 year warranty | Dual work station for multiple users |
| High weight tolerance | Choice of leg design |
| Range of finishes | Protected top edges |
| Adjustable desk feet | Free standard delivery on all products (Excluding Bulk Buy) |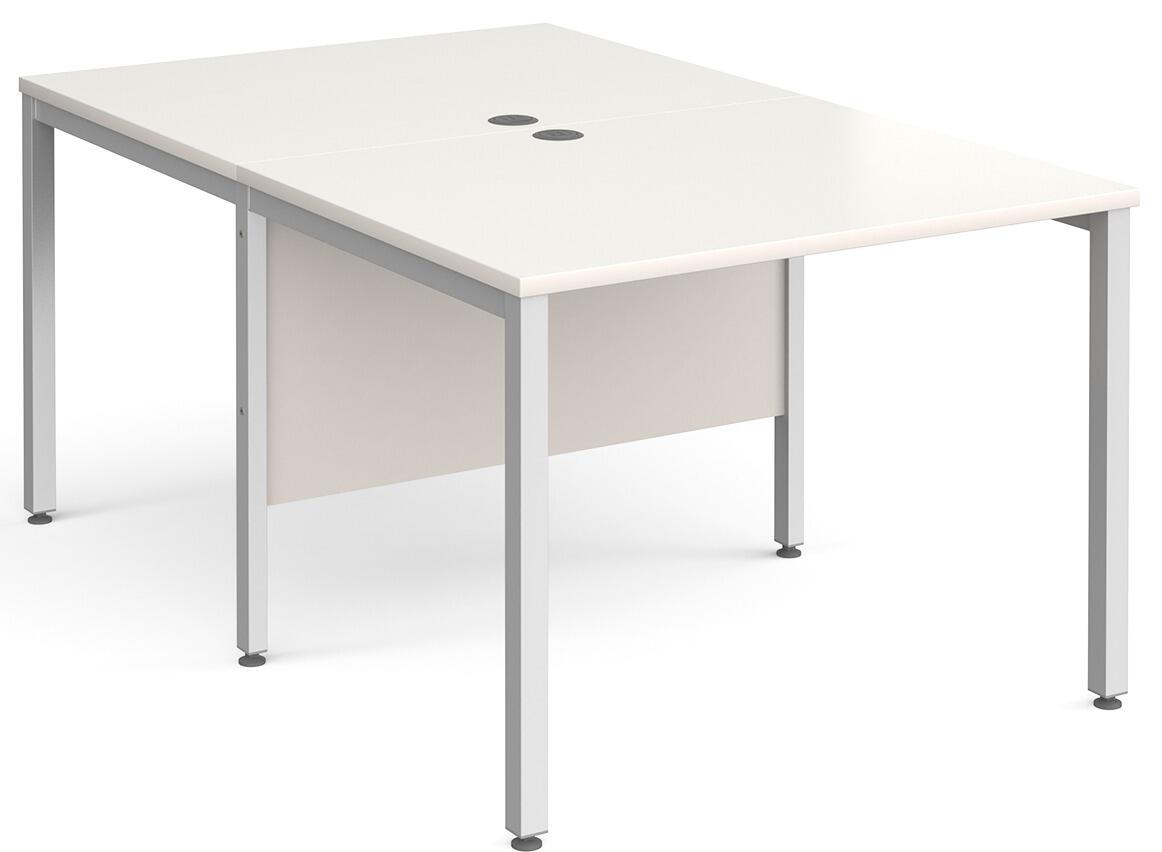 Bench Desks
At Office Furniture Direct we offer a large selection of bench desks for offices and home offices. Choose from a variety of options such as size, colour, finish, and seating arrangements. Bench desks are ideal for use in large offices that seat many people. Some can be configurated for collaborative working as well as individual working areas when using privacy screens. Design your own seating arrangements by using different pod sizes and extensions. If you need help with your selection, please get in touch with us on 01480 220311 and one of our team will be happy to assist you.
Our Range
There are many options for you to choose from throughout our collection. The tabletops come in a range of finishes. There is a choice of leg designs such as cantilever, extension, standard four leg or H frame. Certain bench desks offer screen dividers wall where you can attach items such as schedules and calendars. The structure of bench desks has been designed to be robust and hard-wearing tops makes them perfect for the busy work environment. All our products are well-manufactured and will prove to be a long-term furnishing solution for any office. On top of this, our extended warranties offer you extra peace of mind.
Each brand we stock offers their own variety of bench desking options. Read on to find out a bit more about the brands we use and the products they have to offer.
Dynamic
Dynamic offers a complete flexible solution through their pod design. Adding extension units, you can extend the bench system to accommodate multiple users. Available in separate finishes, the pod-extension design increases under desk space and leg room. They also help reduce costs and create a more collaborative workspace. Purchase desk divider screens for a complete office desk solution. They are great value for money and offer a certain style that has proven to be very popular. Their system is stunningly designed and engineered to create a perfect team working space. You can choose from either single, series of desks, or a double face to face two pod bench system. By using a starter and adding extension unit's you can add as many as you need together. Shared leg options link desks together and cables are effortlessly managed through sliding tops and dump channels.
Gentoo
The Gentoo range offers you 5 wood finishes to choose from. This includes the extremely popular modern white design. The wood is sustainably sourced and benefits from the natural rings and knots. You have a choice of either single, double or face to face pods.
With an 8-year warranty, you can expect their products to be durable. They work well alongside their other office furniture. This includes filing cabinets, pedestals, and cable management trays.
TC Office
Bench desks from TC Office are high quality and reliable. They feature a 25mm melamine desktop as well as a choice of leg finish. Excellent with partition boards, the pods can be used by multiple users. TC Office bench desk are available in beech, maple, and oak as well as the more unique white, dark walnut and grey oak.
The sets on offer vary in width, offering a spacious amount of room. The legs are designed to allow space for storage and under desk pedestals. They have an excellent 5-year guarantee and are available with multiple accessories. These include privacy screens, returns and cable management. Cost effective, sustainable, and modern, this range is an ideal solution for any workplace.
Elite Office
Slightly different from what you would normally expect in this category. However, the double bench from Elite Office is making its way into offices throughout the country. Tapping into the trend of sit stand desks, Its electric height adjustment enables a smooth transition between sitting and standing. This allows users to vary their posture throughout the day. They offer a wide range of leg options and finish options. This is in the form of a sliding mechanism which allows for effective cable management. The desks include cable management properties to promote a clutter-free working environment which is important in busy offices. Adjustable feet enable you to keep the desktop level, as well as shared leg options to link desks together. Linking desks helps to create a large and effective foundation for collaborative working. The top mechanisms are lockable as well as scratch and heat resistant.
A range of service options are available, delivery and installation can be scheduled with us. Choose from a wide range of dimensions and design your own high end bench desk solution. If you'd like to find out more about our bench desks, or would like to enquire about stock, you can call one of the team on 01480 220311 who will be on hand to help with your query.
Delivery Times
Delivery times for our products vary depending on which range you are purchasing. Each range and individual product state their estimated delivery time during checkout. We deliver to most UK locations with free delivery as standard. To discuss delivery details, call us on 01480 220311. We also offer an optional nationwide installation service. This is a completely optional service where if you choose to make use of it, our fully trained installers will install the furniture in the locations that you choose as well as disposing of any packaging in an environmentally friendly manner.
Frequently asked questions
Can you install my furniture?
We offer a full installation service across mainland UK. You can select the installation service at the checkout stage. Alternatively, call us on 01480 220311 to discuss your requirements.
Do I need to assemble my furniture?
Most products will need to be assembled. Assembly instructions are provided with each item, and in some cases videos will be available to guide you through the process.
Some items will come fully or part assembled, however, all products will state if they require assembly or not under our service options.
Does this come with a warranty?
Yes, all our products come with a minimum of one-year warranty. Certain items will offer warranties which range from two to ten years. Warranties are stated on each product under the "Specifications" tab in the product description.