Available in straight, wave, crescent or corner shapes, the desks employ a protective edging which improves safety and durability. The desks can feature dual cable management ports which help keep desks clutter-free, this provides more space at your station.
Key Features of our Panel End Desks
| | |
| --- | --- |
| Up to 5 year warranty | Ports for wire control |
| Attached pedestal options | Choice of desk depth available |
| High weight tolerance | Cable management properties |
| Easy to clean | Range of finishes |
| Adjustable desk feet | Free standard delivery on all products (Excluding Bulk Buy) |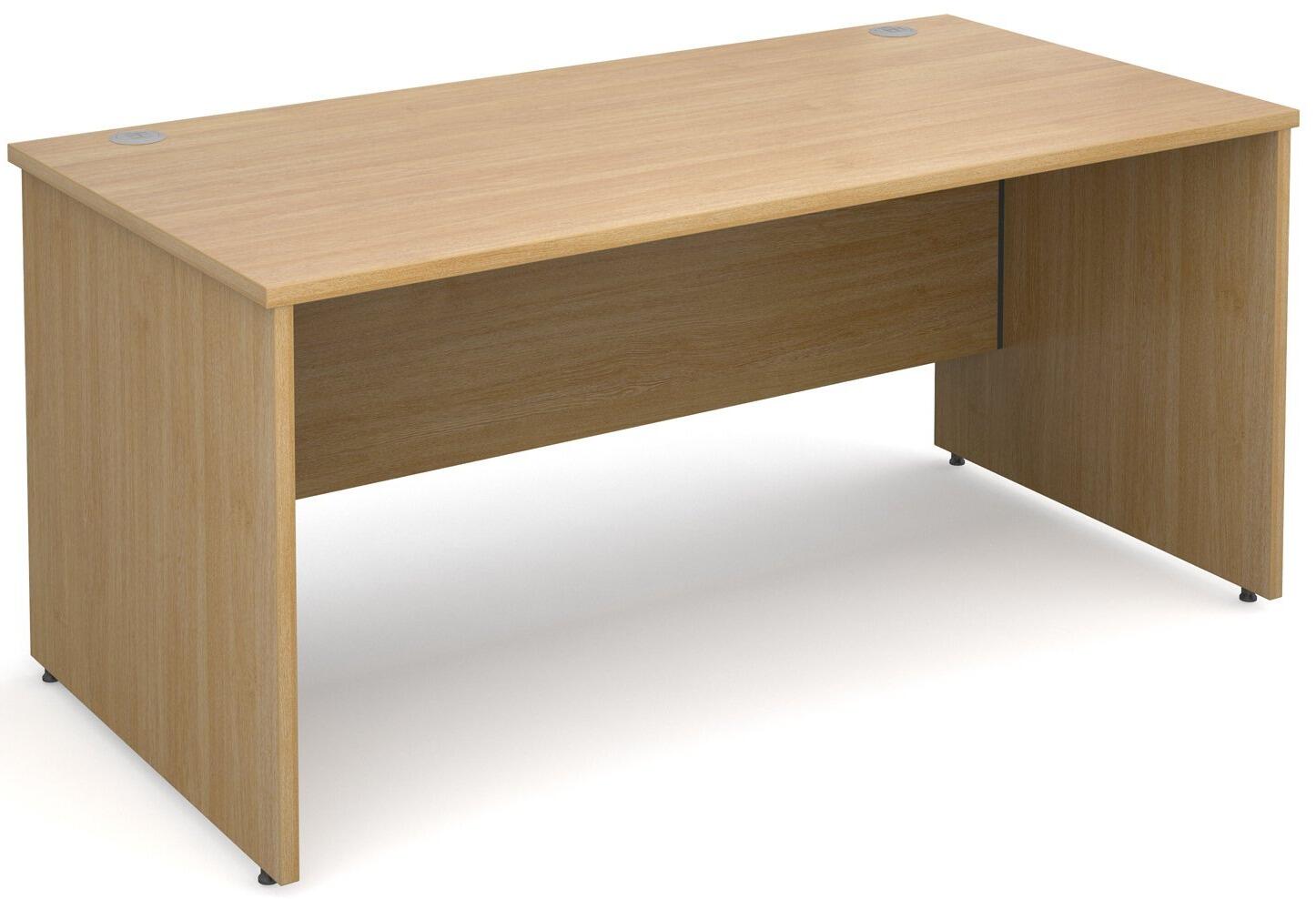 Panel End Desks
Office Furniture Directs supplies a range of panel end desks, perfect for the modern workplace. The tables are made from durable natural wood. This helps to prevent deterioration and remain maintenance free. With their extended warranty and hard-wearing quality, the panel end desks are an excellent feature ideal for any office. Ensure you choose your preferred style and colour combination wisely and take advantage of the table's exceptional longevity. The large panels allow employees to store items under the table without upsetting the aesthetic of the office. Our panelled desk range are a great example of traditionally styled professional desks.
Our Range
With a huge selection to choose from we've given you a detailed explanation of each brand we stock below. This includes details of sizes, colours, prices and more. If you need any help with your selection, please feel free to call us on 01480 220311 and one of our team will be on hand to help.
Gentoo
The panel end desks from Gentoo are made from a sustainably sourced timber. The desks are available as either straight, wave or corner, suiting different office workstyles. The two-tone design is also available, the desktop using a separate finish to the panel legs and base. The finishes offered by Gentoo include beech, maple, oak, walnut, and the new grey oak.
The wood grain tops are scratch and stain resistant, the product is easy to clean and heat retardant. Suitable for the office, the school or the home, Gentoo panel end desks include a range of generous dimensions. The solid panels are thick but not overly heavy, they offer a stable platform for work, able to handle busy environments.
Dams
Dams panel end desks are a high-quality range which is able to be delivered free the next working day. The 25mm melamine desk offers a fully coordinated look with great practicality. Heat and scratch resistant, Dams panel end desks improve confidentiality. They provide a uniform office style, helping to provide the best first impression to clients and colleagues.
The Dams desks are ideal for versatile environments. Variants feature filing cupboards and storage attached under the desk. These are spacious and useful, with most featuring a locking mechanism. The legs include protective feet, and the desktops can include cable access ports. Dams desks require self-assembly and feature a range of wood finishes including the modern white style.
Dynamic
Dynamic offers a wide range of colours as well as a choice of widths, from 600mm to 1200mm. They include a great 5-year warranty and are ideal alongside their complementary storage solutions and pedestals. Cable management ports help the desk remain clutter-free throughout the busy working day.
The Dynamic range has 25mm tops and high density heat resistant MFC panels. The 2mm protective edging throughout keeps it free of chips and marks. The legs have floor levellers built in for ease of use. All steel legs have a powder coated silver finish and the panel ends have a wood grain finish. This elevates the style with the natural rings and knots as well as providing as durable foundation for intensive work. Ideal for providing a complete office solution, the Dynamic collection is an excellent and budget-friendly choice.
Elite Office
The most high-end solution on the market, Elite Office desks are bespoke desking units. They provide an elegant look and feel, ensuring the best first impression. The Elite Office panel end collection features cable management properties, offering both desk space and a clutter-free work environment. The Elite Office range has a choice of storage options, chairs and under desk pedestals to enrich the office and create an ideal working environment.
Elite Office furniture includes a complementary installation service, all products delivered to the UK mainland free of charge. Installation can be scheduled with us by arranging through a call, available next day or at any set date soon.
Many models feature attached drawers ideal for safely storing devices and stationery. Varying in drawer size and amount, as well as doubling over both sides of the desk, the attached filing cabinets are excellently robust and match the table's finish.
Some models require self-assembly, all fixings and instructions are provided in the delivery. Delivery options are available at checkout and purchases are entitled to free delivery. If you'd like to find out more about our Panel End Desks or would like to enquire about stock, you can call one of the team on 01480 220311 who will be on hand to help with your query.
Delivery Times
Delivery times for our products vary depending on which range you are purchasing. Each range and individual product state their estimated delivery time during checkout. We deliver to most UK locations with free delivery as standard. To discuss delivery details, call us on 01480 220311. We also offer an optional nationwide installation service. This is a completely optional service where if you choose to make use of it, our fully trained installers will install the furniture in the locations that you choose as well as disposing of any packaging in an environmentally friendly manner.
Frequently asked questions
Can you install my furniture?
We offer a full installation service across mainland UK. You can select the installation service at the checkout stage. Alternatively, call us on 01480 220311 to discuss your requirements.
Do I need to assemble my furniture?
Most products will need to be assembled. Assembly instructions are provided with each item, and in some cases videos will be available to guide you through the process.
Some items will come fully or part assembled, however, all products will state if they require assembly or not under our service options.
Does this come with a warranty?
Yes, all our products come with a minimum of one-year warranty. Certain items will offer warranties which range from two to ten years. Warranties are stated on each product under the "Specifications" tab in the product description.